During a year when many of us were confined to our homes, these Chicago-area photographers allowed us to view the city we missed so dearly through their eyes. Here are their favorite photos they captured in 2020.
"June 24th, 2020: I took this photo of a sunset over Chicago's skyline while on a boat on Lake Michigan. This is my favorite photo of 2020 because it has two of my favorite things in a Chicago photo — the skyline and a great sunset, and it has a strong summer vibe to the photo."
Follow Jack on Instagram.
"I took this photo on a sunrise walk through Lincoln Park. After a colorless sunrise, I was forced to find new perspectives. Here I used the colors of the fall trees to frame my favorite building in Chicago!"
Follow Matt on Instagram.
"For me, travel has always been an essential part of my life. My work and my family are all encompassing, a seemingly never ending passion project are the two. There comes the time when I need to recharge. I need to gain new perspective and I need to reset who I am. Exploring our world has always been that decompression valve for me. However, given the state of things in 2020, any travel plans have been put on hold. All these years as a food photographer, food has always evoked a sense of the past, or a previous experience, but nothing has ever transported me like the food at Tzuco. Instantly I knew I needed to create an image to take my audience there equally as the taste of the food did for me. This dish of bean puree and mushrooms made me feel as if I had been lifted from the chill of autumn in Chicago and set gently in the warmth and excitement of Mexico City. The image itself doesn't feel like home, which for me satisfies that need to break free from the norm."
Follow Neil on Instagram.
"Taken from atop the Sears Tower, this photo is my favorite of 2020. Although I wasn't able to get out and photograph the city as much as I normally would, I am hoping this is not the case for the upcoming year. I chose this photo for the beautiful, glittery view of the city I love so much."
Follow Christine on Instagram.
North Avenue Beach, Chicago

"I was flying my drone to capture Fall colors with the Chicago skyline as a backdrop. Within an instant, sun rays came peeking through the skyline lighting up the Fall colors, which I felt like a blessing from nature, giving us a sign of hope and positive times ahead for all of us humans, considering the pandemic year we all are going through."
Follow Avinash on Instagram.
The Joffrey Ballet "The Sofa"
Choreography: Itzik Galili
Dancers: Christine Rocas & Dylan Gutierrez
"I love an image that makes you say 'How did they do that?!' It's such a treat to get to capture moments like these from some of the best in the biz! This shot was taken in February of 2020, just 4 weeks before the world shut down. Looking forward to stepping into a theater again…it's been much too long."
Follow Cheryl on Instagram.
"It's a rarity to see quiet highways, especially in a city like Chicago. To capture this photo, I was able to combine the beauty of the city with the silence of the quarantine. In my almost 7 years of doing aerial photography in Chicago, this is one of my favorite photos. I don't think I'll ever be able to recreate such a silent highway."
Follow Razvan on Instagram.
"Taken on December 5th, this photo reflects how beautiful Chicago gets decorated in Christmas colors each year. Although it is a bit different Christmas this year, still it's the most wonderful time of the year. I chose this photo because it really showcases Chicago's amazing architecture alongside the river. I am looking forward to exploring more in the coming years!"
Follow Amit on Instagram.
"The beauty that is Chicago and the love I have for this city cannot be described with a single photo; however, this image, my favorite of 2020, speaks to me on so many levels. Taken high above Millennium Park and Michigan Avenue, I captured the image as the clouds rolled in from the lake in the east to envelope the skyline, only to be met with the fierce late afternoon beams of sunlight coming from the west. I love this interplay between the forces occurring here, creating a dynamic scene of a "blaze of color" that reminds me of a quote by American writer Anna Godbersen, 'the first stab of love is like a sunset, a blaze of color — oranges, pearly pinks, vibrant purples.' Everytime I see this photo, my heart aches, a stirring that stems from the love I have for Chicago."
Follow Ken on Instagram.
"I've been shooting our beautiful city, non-stop, since moving to Chicagoland from Northern California five years ago. My favorite photo taken this year is one I shot back in early May, during the peak of the first wave of the pandemic. Every year I wait for the tulips to pop up and share their vibrant colors for all walks of life to enjoy. This year, everything in the city looked and felt different, but I loved how the Chicago Theater sign gave us hope, just as the tulips blooming reminded us that the world was still turning, even if it felt like everything had stopped. Though full of uncertainty and unrest, this year truly made me appreciate life, and truly see so much that we've taken for granted, like tulip lined, city streets on a sunny Spring day."
Follow Madeleine on Instagram.
"My favorite photo was taken 6 seconds into the new year, 2020. This is Chicago's New Year Eve's Blast over the Chicago River. I think we can all agree not too long after this, it started to all go downhill for 2020."
Follow Barry on Instagram.
"This year was my first attempt at photographing 'Chicagohenge.' As the sun came into position it seemed as if the whole world stopped, not only for the waiting photographers, but also for the passersby. This shot will always remind me of the sense of community that develops when photographers gather to capture a special moment."
Follow Douglas on Instagram.
"This is my favorite photo I have taken this year from the city of Chicago. To be honest I'm not sure exactly where I took it, I just know I took it out of one shot. It is my favorite out of 2020 because I didn't plan on taking it, it just happened and I rolled with it. To me it represents my best work and is where I started to advance on as a photographer."
Follow Caleb on Instagram.
"I picked this photo as my favorite of 2020 because Christmas trees and the holiday lights during winter time not only bring happiness to many, but it also brightens up the space and brings out the dimension to the photo. The reflection adds great depth and abstract feel to the image. The Wrigley Building is the perfect spot for just that. I love the bold white facade combined with the French Renaissance style because it stands out among the modern skyscrapers and shows a piece of artistic and architectural history that can typically only be appreciated in Europe!"
Follow Maida on Instagram.
---
More from Better:
---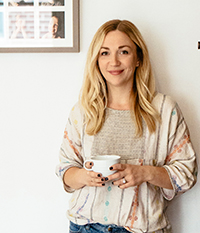 Macaire Douglas lives in the Chicago suburbs with her husband and two sons. She proudly supports Save Abandoned Babies Foundation, a Chicago-based nonprofit organization that works tirelessly to prevent the illegal abandonment of newborns nationwide. Since its inception in 2000, more than 3,600 newborns have been safely surrendered and adopted into loving homes.