Did you know that Chicago is one of the top spots in the US for breweries? With more than 167 breweries (and counting), there is a beer out there that will suit just about anyone. And, lucky for us, we can liven things up at home this holiday with a special release brew, ready for pick-up at a brewery near you. Here are just a few we are looking forward to toasting with this holiday season.
Half Acre is bringing us a seasonal treat, the Hiemal Holiday Porter, a holiday porter that is their contribution to "the rich dialog between beer and winter celebration." Hiemal was malted in Indiana by Caleb Michalke and his family at Sugar Creek Malt Co, and is a specialty heavy malt bill comprised of Dark Crystal, Crystal Rye, Belgian Special B, Chocolate Rye, and Dark Chocolate contribute layers of bakers chocolate and subtle roast with a complex rye spice.
Available for curbside pickup and at their Balmoral Take Away Cafe. 2050 W Balmoral Ave, Chicago.
Hopewell Brewing
Deluxe Imperial Chocolate Stout and Vanilla Deluxe
Hopewell Brewing Co. is offering their Deluxe Imperial Chocolate Stout and Vanilla Deluxe, which are lush and decadent beers, packed with notes of rich fudge, dark chocolate and fresh espresso, making for an ideal post-dinner sipper to send off the night.
Deluxe is an Imperial Stout brewed with barrel-aged chocolate malt and cacao nibs. The vanilla variant has the added indulgence of creamy vanilla bean, a dessert in itself.
Grab fresh from the Hopewell Supermarket. 2760 North Milwaukee Avenue, Chicago.
A yearly favorite, Illuminated Brew Works releases War On Xmas, an 11% white stout with Vietnamese cinnamon, vanilla, nutmeg, mace & lactose to provide "thirsty and confused masses with a holiday beer that comes as close to tasting like Egg Nog as any beer rightly should." This is their fourth year releasing War on Xmas, the only beer they are aware of that has a theme song performed by Chicago's The Columbines. The Illuminated Brew Works team are "rabid" fans of John and Yoko, so the label pays loving tribute to John and Yoko's "War is Over" billboard campaign from 1974.
Find at Binny's, Beer Temple, Bottles & Cans, Beer on the Wall and more. 415 N Sangamon St, Chicago
Marz Brewing has two holiday beers this month, the first being Holihaze, their annual holiday beer. A New England Style India Pale Ale with Pinot Gris Juice, this favorite is more holliday-ier than before. The pinot gris contributes nice notes of gooseberry and apple, while the hops bring some lemongrass, pineapple, and a little peach lingering on the back end.
The other is Krampbiscus, a Krampusnacht beer that is a fruited ale with cranberries and raspberries. Per Marz, it is named in honor of Saint Nick's more punitive-minded, goat-demon counterpart, who stalks from house to house punishing naughty children, swatting them with ruten and stuffing them into his bag to carry them back to hell. To escape his clutches and throw him off our scent, Marz created this smooth and fruity wale suffused with raspberry and cranberry.
Pick up at Marz Brewing's Bottle Shop. 3630 South Iron St., Chicago.
Moody Tongue
Bourbon Barrel Aged Variants
Moody Tongue is offering three festive and delicious holiday barrel-aged beers this season:
Bourbon Barrel Aged Gingerbread Imperial Stout (released December 2020)
Bourbon Barrel Aged 12 Layer Cake Imperial Stout (released December 2020)
Bourbon Barrel Aged Coffee Cake Imperial Stout (released January 2021)
Order beer for delivery online.
Off Color
Dino S'Mores Variants
Jump on these variants quickly, because these Dino S'Mores bottles won't be around for long (and their second variant, Port Barrel, is already sold out)! Barrel Aged, the Double Barrel Dino S'mores is aged 12 months in Wild Turkey bourbon barrels before being transferred over to Willett Distillery bourbon barrels for another 10 months.
Order from their Bottle Shop for delivery. 3925 W Dickens., Chicago.
Ørkenoy
Sambuca Woodland
Tasting of sweet cherry wood smoke, toasted rye bread and toffee, Sambuca Woodland from Ørkenoy is made with Sugar Creek Smoked Malt. And legend has it, "Sambuca vanished from the bluffs a long time ago, on a dreary night, after falling into a pit of cherry wood smoked lager made with Sugar Creek Smoked Malt. Every full moon Sambuca can be spotted at the bluffs cemetery searching franticly for their long lost soul."
Pick up at Ørkenoy. 1757 N Kimball Ave., Chicago
Love Starbucks? Scorched Earth's Double Caramel Mocha Chip Frappe'cinno Coffee Porter is for you. It's smooth, dark and delicious.
Pick up at Scorched Earth. 203 Berg St., Algonquin.
The Wauconda brewery is releasing three barrel aged Imperial Stout beers this month, including Distinguished Gentleman, which is barrel-aged in Heaven Hill Whiskey Barrels, and has a thick, creamy, and malty stout with nice oak and vanilla notes.
Their Mon Cheri stout, which translates to "my good man," is fitting since the base of this beer is their Distinguished Gentleman Russian Imperial Stout. It's blended with cocoa and fresh Michigan tart cherries.
And their third release is Kluane—"the only good thing to come out of 2020." It is a new Barrel-Aged variant joining Side Lot's series, and takes their signature Distinguished Gentleman and lets it sit in a Maple Syrup Barrel, which adds a subtle maple flavor.
Pick up at their brewery. 110 Slocum Lake Road., Wauconda
Hurry, because these variants are up for preorder today, with pick up starting Saturday, December 19! All four beers in the 2020 Might Meets Right line-up were aged in High West bourbon barrels this year.
High West: New for 2020
The first time since 2016 that Might Meets Right is coming from High West barrels!
¡La Sopresa!
Temperance's riff on a Mexican hot chocolate with roasted cacao nibs, espresso powder, vanilla, toasted cinnamon, and ancho, New Mexico, and arbol chiles. A rich and complex beer with a picante finish.
Bramble
Might Meets Right with added ripe blackberry and raspberry purées which play nicely with the dark chocolate notes.
Peppermint Hot Cocoa: New for 2020
Peppermint, chocolate, marshmallow and vanilla—this one is definitely a keeper. Temperance only made two kegs of this last year, but people kept asking for it, so here it is, canned and ready to go!
Preorder for pick-up at their drive-thru. 2000 Dempster St., Evanston
And if beer is not your thing…
Luna Bay, the only female-founded hard kombucha that is brewed with Yerba Mate tea, has released a new festive flavor, Orange Persimmon Smash. Like their other flavors, it is bubbly and sweetened naturally from the whole flavors of its ingredients. Compare it to a lighter mimosa, it is vegan, gluten-free, made with non-GMO ingredients and naturally fermented to 6%.
Find Luna Bay at Binny's, Whole Foods, Heinens and other liquor stores around Chicago.
---
More from Better:
---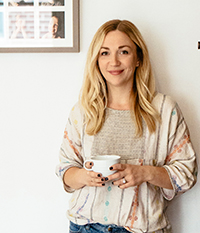 Macaire Douglas lives in the Chicago suburbs with her husband and two sons. She proudly supports Save Abandoned Babies Foundation, a Chicago-based nonprofit organization that works tirelessly to prevent the illegal abandonment of newborns nationwide. Since its inception in 2000, more than 3,600 newborns have been safely surrendered and adopted into loving homes.