In late October, when Covid-19 cases surged and updated restrictions were announced, we wondered how local businesses would continue to survive. After months of barely making ends meet with capacity limits and outdoor dining, the restrictions on indoor dining combined with winter months and darker hours, are putting a new level of stress on the hospitality business.
But, Chicago business owners are innovative and tough. And with the support of their communities, we hope to see them though.
From special menus, warmer outdoor dining and new online ordering services, here are some ways you can continue to support local restaurants.
Editors Note: We have included several ways to order from these restaurants below, but suggest ordering directly from the restaurants, when possible.
615 W Randolph St, Chicago
avec classics — dates, salted cod brandade, focaccia, hummus — are offered daily for lunch and dinner for delivery or pick-up. Their patio is also open, for dinner reservations. Watch their Instagram for new menu offerings, like their Tuesday night Pizza Party at home.
Order: (312) 377-2002 | Tock
817 W Lake St, Chicago
The restaurant is offering a weekly rotating takeout menu. Recent offerings have featured a choice of steak, salad, potatoes and mushrooms. Available every Wednesday through Sunday from 4 to 8:30 p.m.
Order: (312) 526-3116 | DoorDash
Recently launched, you can now order exclusively for delivery through DoorDash to the western Chicago suburbs. Chef Bill Kim's Ramen Bar hours are 11 a.m. to 6 p.m. Sunday through Thursday and 11 a.m. to 8 p.m. Friday and Saturday.
Order: DoorDash
845 W Washington Blvd, Chicago
Chef John Manion launched El Che Meat & Provisions at the beginning of the pandemic, a local meat market offering premium steak cuts and housemade sauces. Now during the shutdown, El Che Steakhouse & Bar will offer weekly pop-up menus for as long as indoor dining is closed, as well as to-go cocktails and wine, which will be available Thursday through Saturday from 4 to 8 p.m.
Order: (312) 265-1130 | GrubHub
221 N Columbus Dr, Chicago
The new restaurant within the iconic Radisson Blu Aqua tower in Streeterville offers both takeout and curbside pick-up starting daily at 2 p.m. Menus feature rotisserie chicken, wings, flat-iron steak frites and much more. The heated patio remains open for breakfast through dinner, Sunday and Monday 8 a.m. to 8 p.m. and Tuesday through Saturday 8 a.m. to 11 a.m.
Order: Make a reservation or order online at (312) 477-0234
1709 W Chicago Ave, Chicago
The funky Southern-Bavarian love-child of a restaurant offers its full menu for delivery and takeout. Additionally, if it's raining out, ask for the "Funk the Rain Away" special: $10 off Chow Now pick up or phone orders.
Order: (312) 929-4727 | Caviar
858 W Lake St, Chicago
Available for pick-up at the West Loop bar, guests will also have the chance to experience live music and outdoor seating when picking up their orders — GG's will have a pianist that accepts song requests for guests to enjoy if they choose to sit on the first come first serve patio beginning at 5 p.m.
155 N Peoria St, Chicago
For the first time, Nobu Hotel Chicago will be offering in-room dining and takeout from the beloved Nobu Restaurant. In addition, the hotel is launching a new Family Gathering package for the holiday season, complete with a special Bento-Box culinary experience. The 11th-floor Rooftop at Nobu Hotel Chicago will remain open. The menu will be offered Monday to Thursday 4 p.m. to 10 p.m. and Friday to Sunday 12 p.m. to 10 p.m.
Order: (312) 779-8888 | Online at Nobu
340 N Clark St, Chicago
One of River North's favorite Italian destinations offers an expanded covered patio with radiant floor heating, as well as sidewalk seating with propane heaters.
Order: The full menu is available via Caviar and Door Dash.
205 N Peoria St, Chicago
West Loop hotspot, PB&J, is offering delivery and carryout services for all menu items including wine and beer. PB&J is available for delivery on their website and will soon be available on third-party delivery platforms. They also have a new drive-thru drink bar where guests can pick up sealed to-go cocktails and their carryout without leaving the vehicle. While waiting for their order, guests can select a song they want to hear on the Jukebox. 
Order: (312) 498-7080 | Reservations | GrubHub
177 N Ada St #101, Chicago
Inspired by the great Chef Charlie Trotter, Smyth is introducing a new monthly takeout offering featuring heart-warming dishes that embrace the flavors of the season. Each menu will rotate monthly for $37.25 per person. Additionally, The Loyalist's a la carte menu is also available for pick-up and delivery featuring Chef John's casual French fare.
Order: (773) 913-3773 | TOCK
123 N Jefferson St, Chicago | 565 W Randolph St, Chicago
The longtime Michelin star and globetrotting West Loop destinations both reopened for takeout only last week, available weekly Wednesday through Sunday, 5 to 8:30 p.m.
Order:
Sepia: (312) 441-1920 | TOCK
Proxi: (312) 466-1950 | TOCK
4229 N Lincoln Ave, Chicago
Robert Et Fils is a French fine-dining destination which opened for takeout only in August due to a small interior space. Weekend five-course takeout for two is available Thursday through Saturday. The takeout comes with a personalized note signed by the whole team, in addition to wines, charity pastry items, and cocktail kits.
Order: (773) 687-9179 | TOCK
838 W Kinzie St, Chicago
The largest patio in the city still offers ample outdoor seating with new firepits throughout to cozy up around as the winter sets in. Enjoy hot cocktails including warm cider and sangria, plus new entrees from the new chef formerly of Rockit Bar & Grill, Amanda Downing Salas.
Order: (312) 801-1181 | Reservations
Multiple locations
In addition to donuts and coffee, Stan's is now a go-to for breakfast for savory lovers since launching their first-ever egg sandwich: the Stanwich. Stanwiches are available beginning November 9 at Stan's Wicker Park, Oakbrook Terrace, and Streeterville locations.

Order: Available for takeout and delivery, or donuts ship nationwide through Goldbelly.
1134 W Washington Blvd, Chicago
This neighborly West Loop wine bar is offering takeout and delivery for a variety of curated experiences, Tuesdays through Sundays from 11 a.m. to 8 p.m. Offerings include: 'Date Night' with a grand board of cheese and charcuterie and wine selections and Wine Tastings for six to eight people. A la carte to-go offerings include housemade pastas, burgers, steaks, vegetables and more.
Order: (331) 240-1914 | TOCK
400 N Clark St, Chicago
The popular River North restaurant offers daily takeout and delivery available via Caviar, DoorDash, GrubHub, UberEats to serve all of your weekend brunch, lunch and dinner needs at home, as well as cocktail kits
Order: (312) 312-5100 | Caviar
145 N Dearborn St, Chicago
The popular Loop tavern operated by two Irish sisters, Amy & Clodagh Lawless, is open for heated patio dining, takeout and delivery (GrubHub, Ritual, Tock) from Friday to Wednesday, 12-8 p.m.
Order: (312) 384-1242 | Tock
3335 N Halsted St, Chicago
The award-winning Boystown (now Northalsted) neighborhood restaurant is still rolling with its expansive heated patio and sidewalk seating with a full menu. In addition, they are offering two and three-course packages (choose two for $22 and three for $33), for customizable prix-fixe meals available for contactless carry out at their front window.
Order: (773) 935-9663 | Seamless (preferred by Wood to other third parties)
Multiple locations
All locations will offer a new outdoor build-your-own tailgate package that will allow guests to pre-game and enjoy pre-ordered food and beverage in a designated tailgate area in WhirlyBall's parking lot before they head indoors for the activity of their choice. Groups will be asked to stay in their respective areas outside, maintain social distancing, and adhere to the regulations imposed for outdoor dining.
Order: Reservations | Caviar
---
More From Better:
---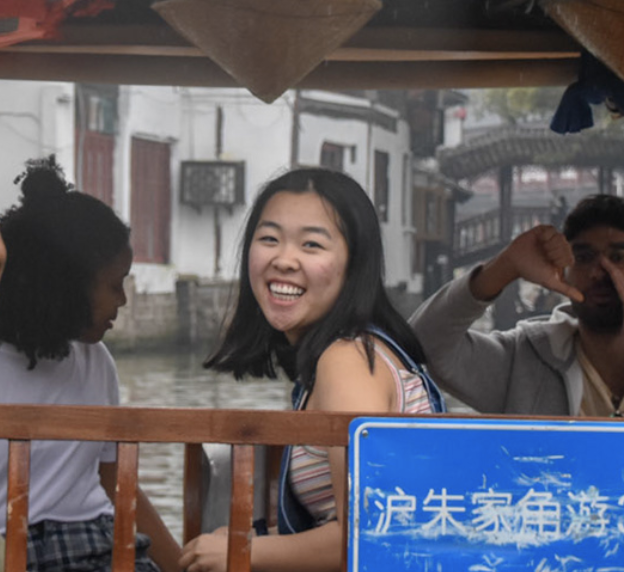 Cindy Mei is an intern at Better. Currently in her senior year of college at Northwestern's Medill School of Journalism, Cindy is moved by strong storytelling about personal identity and culture. She is an avid fan of the works of Anthony Bourdain, Alex Kotlowitz and Jenn Fang.
Cindy is a proud alumna and supporter of After School Matters, a non-profit organization that offers arts and leadership classes to Chicago high schoolers. She also encourages support for Think!Chinatown, a New York City based non-profit that fundraises for Chinese businesses in Manhattan's Chinatown.