We are so sad to hear that our friends at Nick's Neighborhood Bar & Grill in Wilmette, a repeat Best of Winner, are closing their doors.
In an Instagram post, Nick's broke the news:
"It is with heavy, but grateful hearts that we share the news that Nick's has officially closed. Words cannot express how proud we have been to be a part of such an incredible community. From day one, we set out to create a local, "go to" neighborhood spot where family and friends could come together to enjoy great food, refreshing cocktails and superior service in a warm and welcoming environment. We are grateful to deliver on that vision for more than seven years and to help inspire the now robust Wilmette dining scene. We are so proud of the impact we have had in our local community thanks to the most generous customers around. THANK YOU for your unwavering support, loyalty and friendship. There is no question that our team and our guests made Nick's so special! In an industry where turnover is the norm, we have been fortunate to have had the same core team for years! They are the reason Nick's has been so beloved, and words will never express how grateful we are for their dedication. While we have been approached about selling in the past, it never felt quite right. We engaged in this opportunity because of the impact of the pandemic and the uncertainty of the future. Importantly, the buyer is a local resident and we know he cares about our community and will continue the tradition of 1168 Wilmette Ave being a neighborhood joint. We will certainly miss our Nick's family and friends, but look forward to sharing a pint or two in the coming weeks around the hood! Cheers and from all of us, thank you. The Nick's Team."
View this post on Instagram
Started by nine local families, including Jennifer and Peter Marino, Nick's helped create a new Wilmette dining scene that has continued to grow over the past seven years.
We caught up with Nick's recently to see how they were doing. Not only were they keeping their business afloat, but they delivered more than 1,500 meals in two months to local hospitals, fire departments and police stations. They also provided more than 250 boxed lunches to local homeless shelters. We teamed up with Nick's and the Anthony Rizzo Family Foundation to deliver some of those healthcare meals — the generosity during such a uncertain time is immeasurable.
The owners of Nick's told us that the pandemic has truly been the most challenging time they have ever faced as a business, and though the pandemic is yet to be over, this time has also been the most eye opening in terms of what local support looks and feels like.
"The fact that we were able to do so much good by fueling frontline workers and people who were truly in need in the midst of such unsettling times was beyond rewarding. People came from as far as Wisconsin to pick up carryout, others drove from the city to celebrate the minute our outdoor tables were open and people from Florida and New York ordered hospital meals to be delivered throughout the North Shore. I cannot stress enough the fact that we were able to remain open because of the support we received from our customers," Nick's owners wrote.
The economic toll that the pandemic is having on small businesses is devastating. Outdoor dining was a luxury we all enjoyed after being shut indoors for so long, but it hardly met sales figures compared to a normal Saturday service. And with the cold winter season coming, many restaurants can't offer outdoor seating and are limited to reduced capacity indoors — the outlook is not promising.
What can we do to help? Here are some ways we can support local, right now:
Commit to ordering take-out a few times a week.
If outdoor dining is an option, bundle up and head out! The cold air is good for you.
Tip your servers and staff generously.
Continue to dine indoors, if you feel comfortable doing so.
Watch out for fundraisers and special events at your favorite restaurants.
Consider ordering your holiday meals from local restaurants.
Share your support, and your delicious meals, on social media and tag the restaurant.
---
More from Better:
---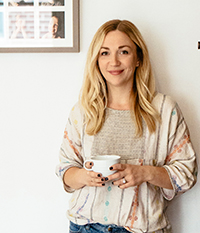 Macaire Douglas lives in the Chicago suburbs with her husband and two sons. She proudly supports Save Abandoned Babies Foundation, a Chicago-based nonprofit organization that works tirelessly to prevent the illegal abandonment of newborns nationwide. Since its inception in 2000, more than 3,600 newborns have been safely surrendered and adopted into loving homes.