The Night Ministry, a Chicago-based nonprofit that provides human connection, housing support and healthcare to members of the community who are unhoused or experiencing poverty, held its Lighting Up the Night fundraiser on June 13 at Museum of Contemporary Art Chicago.
It was the nonprofit's first in-person benefit since 2019, attracting nearly 300 supporters who joined its staff and board of directors along with fashion designer Maria Pinto, restaurateur Emmanuel Nony, and Chicago Bears legend Jay Hilgenberg.
The Night Ministry's president and CEO, Paul Hamann, spoke to the audience about "learning, striving and thriving" and shared lessons The Night Ministry has learned over the past few years, COVID-related and otherwise. Board chair Kiantae A. Bowles also spoke, and Jim Miller led the live auction and paddle raise segments of the evening.
Lighting Up the Night raised more than $370,000 in support of The Night Ministry's mission, helping more than 4,000 of the Chicagoans it serves to meet the evolving challenges of being unhoused or living in poverty.
Event sponsors included the Joseph and Bessie Feinberg Foundation, Nicole and Dave Berger, BMO Harris Bank, Marti Corcoran of Coldwell Banker, Anne and Bill Goldstein, Vistex and Make It Better Media Group.
The Night Ministry is a 2021 Make It Better Foundation Philanthropy Award Winner and was recently featured in a CBS Chicago segment with Suzanne Le Mignot. CBS took a look at their Street Medicine Program, which brings health care and supportive services directly to Chicago's unsheltered homeless population, as well as their Overnight Emergency Shelter, which houses up to 21 young, homeless people each night.
---
How to Help
Since 1976, The Night Ministry has been working towards safety, better health, security and housing for Chicago's homeless. They provide assistance and work tirelessly to improve the lives of adults and youth who struggle with homelessness, poverty and loneliness. Donate to support their mission.
---
More From Better
---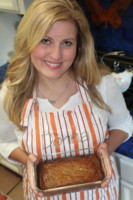 A freelance writer in Marin who writes about family, kids and parenting, Glass is the mother to one son, one dog and a hamster named Miss Geri. When she's not writing, trekking up steep hills in Marin or driving her kid to sports practice, she and her family spend time in their tiny cabin in Lake Tahoe. She avidly supports the California Academy of Sciences, a world class science museum and research institution, and the Institute on Aging which provides much needed services to Bay Area seniors and disabled adults. Glass is obsessed with baking the perfect loaf of banana bread, something she makes so often she no longer needs to look at a recipe card.