Our Chicago summer is fleeting, so why not make the most of it?  Whether you're by the lake, poolside in your backyard, out for a run or partaking in our #2020ChicagoOlympics, these items from local stores – some even locally made – will help you do just that.
Price varies, purchase online or in local Target stores
View this post on Instagram
The Chicago brand is making a big splash in backyards and city balconies, with their trendsetting adult and kiddie-sized pools. Designed by Emily Vaca of La Vaca, you'll have a hard time choosing a favorite.
$25, Fleet Feet, 800 Waukegan Rd, Deerfield
If the thought of your sunglasses slipping due to sweat makes you cringe, these no slip and no bounce sunglasses are the solution. Perfect for running, GOOD's lightweight sunglasses are polarized and come in a wide variety of colors.
$30, Egea Spa, 1521 Sherman Ave, Evanston
It would be foolish to head out into the sun without SPF, and this lotion provides some much needed protection. Formulated for your whole body, it also has antioxidants, ceramides, and humectants. Even kids love the way this feels all over.
$69.65, REI, 888 Willow Rd., Northbrook
This flexible 15-liter cooler bag is perfect if you are on the go, allowing you to stay hands free. The sling style backpack can also be secured to a boat, bike or board, and it also comes in bright, summer-inspired colors. 
$28, Lena Rose Beauty, 4645 N Rockwell St, Chicago
Need summer-ready feet? This refreshing and uplifting foot scrub is perfect to pamper your toes after a long day outdoors. The natural, vegan and cruelty-free formula contains shea butter and peppermint, leaving your feet feeling soft and refreshed.
$25, Chalet Nursery, 3132 Lake Avenue, Wilmette
A combination of sea salt, jasmine and all natural-citronella oils, these incense sticks are formulated to be used outdoors and naturally keep mosquitoes and biting bugs away. To complete the set, pick up the matching Citronella Sea Salt candles, body spray and after sun lotion.
$110, Maze Home, 735 Elm St, Winnetka
The perfectly chic way to picnic, this backpack contains everything you need to dine outdoors in style. Inside you will find plates, stemmed glasses, silverware, salt and pepper shakers and there is even a spot for a bottle of wine, and room for personal items, too.
$12, Transit Tees, Wicker Park or Andersonville
Designed and printed by Transit Tees in Wicker Park, this banana, with a lovely plaid take on the classic Chicago Flag design, can be worn as a face covering while out in public places. Dogs love 'em too!
Please check with stores for availability, pricing and social distancing measures.
---
More from The Look
Chicago, 773-974-1640
A Chicago-based company that donated 15% from all sales. All the candles are handmade in Chicago. You're not only helping a local small business but you're helping a charity.
Chicago, 708-742-2242
A Chicago-based sport bag and accessory brand, with a collection of sustainable, functional, fashionable, gym-to-office handbags. The launch collection offers four distinct bags designed to take women from the gym, to the boardroom and beyond.
Sponsored
---
Looking for more ways to help small businesses? Here are some ideas:
Purchase gift cards for future use
Share your love on social
Buy direct (say no to Amazon!)
Skip the discounts and free shipping offers—small businesses need to cover their expenses to get by right now
---
More from Better:
---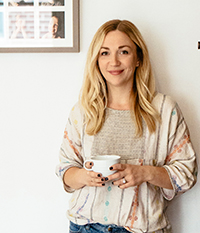 Macaire Douglas lives in the Chicago suburbs with her husband and two sons. She proudly supports Save Abandoned Babies Foundation, a Chicago-based nonprofit organization that works tirelessly to prevent the illegal abandonment of newborns nationwide. Since its inception in 2000, more than 3,600 newborns have been safely surrendered and adopted into loving homes.