If you feel you've aged rapidly in the last year, you are not alone. Between the constant stress of the pandemic and frequent Zoom fatigue, many are reporting they have lost their "glow." From wrinkles and dull hair to joint pain and just feeling wiped out, it seems years have passed while we stayed in isolation. And while you may think it's all in your head, the unfortunate truth is that the pandemic really is aging us faster.
Robb Leone, president, co-founder & partner at BIÂN, a membership-based club with a foundation in wellness and social well-being, agrees that the pandemic has had the potential to rapidly age us, especially when it comes to our skin and hair. "The elevated stress, uncertainty and anxiety caused by the pandemic often will lead to visible signs of aging," he said. "Lack of sleep is a contributor as well."
Here's the science: when we are stressed, it speeds up our cellular aging, according to Psychology Today. "A wide range of studies has shown that the stress caused by things like untreated depression, social isolation, long-term unemployment, and anxiety attacks can speed-up the aging process by shortening the length of each DNA strand," Christopher Bergland wrote. As we age and our DNA strands, which include our telomeres, shorten, their structural integrity weakens thus leading to our 46 chromosomes aging faster. When you think of the emotional and physical stress the pandemic has put us through, it all adds up.
It's no suprise that plastic surgeons and aesthetic specialists are seeing an uptick in bookings and treatments. According to the American Academy of Facial Plastic and Reconstructive Surgery's (AAFPRS) Annual 2020 Survey, video conferencing has taken "Selfie Awareness" to the next level. "Deemed 'ZOOM dysmorphia'…the pressures of a virtual lifestyle had a huge impact on the way we view ourselves," they note. "While staring at yourself on screen all day became normalized in 2020, it follows that people asking for eyelid procedures to look less tired was highlighted as trending by 56 percent of surgeons."
If the image you see daily in your computer screen is putting you down, first, give yourself a break. Second, take the advice of Chicago's top dermatologists, estheticians and beauty and wellness pros. Their integrative tips — don't forget to drink your water, exercise and keep up with your regular doctors appointments — are reminders to take care of ourselves, inside and out.
Here, you'll find their tips for staying ahead of the aging process in the time of a pandemic, and their favorite products for every skin type.
680 N. Lake Shore Drive, Suite 1425, Chicago
920 N York Road, Hinsdale
4905 Old Orchard Center, Lower Level, Skokie
1450 Busch Parkway, Suite 145, Buffalo Grove
Best advice for those hoping to reverse the effects of aging?
"As an expert dermatologist in facial rejuvenation, my advice to patients is to understand that aging is a 'multi-tissue issue.' There is no one cream or one laser or one injectable alone that will resolve the aging process. My approach to anti-aging is multifactorial, addressing bone changes, fat pad depletion, collagen degradation, and skin homogeneity. Every treatment is tailored to the individual, understanding their anatomy, skin type, and metabolism. It is this combination therapy that will help achieve the harmony of a natural rejuvenation."
Jordan's Favorite Product:
"Protect your anti-aging investments with sun protective clothing. I am a huge fan of wide-brimmed hats. Definitely wear sunscreen SPF 30 and above with reapplication every hour, but always wear a hat when in the sun too. I like the Coolibar hats and Wallaroo hats that are wide-brimmed."
Kaycie Chiaramonte, Licensed Esthetician and Owner of The Wicked Waxer
611 W Briar Pl #8, Chicago
Best advice for those hoping to reverse the effects of aging?
"Prevention is key! That means wearing a broad spectrum sunscreen every singe day — rain or shine! In the summer months I recommend physically blocking the sun with a wide brimmed hat as well. As far as reversing the effects of aging, your best bet is finding and using a retinol product that is well tolerated. I've had great luck with the Vivant Derm-A-Gel and have been able to scale up to stronger retinols in their line over time. Slow and steady when introducing a powerhouse like retinol!"
Kaycie's Favorite Products:
Cotz Prime and Protect Sunscreen
"Your routine must include a sunscreen! I absolutely love the Cotz Prime and Protect sunscreen. It is mattifying, not irritating, and wears beautifully under makeup."
"Retinol is the gold standard for anti-aging, as it is the most researched and has an amazing track record for helping slough off dead, sun damaged skin. The Vivant retinol line is fantastic and well tolerated.
"Mandelic acid is another well tolerated alpha-hydroxyl acid that can be used on all skin types and skin tones. The Vivant Mandelic 3-in-1 Wash would be a great and easy way to incorporate the ingredient into your existing routine."
Kevin Boehm, Chairman of BIÂN
600 W Chicago Ave Suite 001, Chicago
Best advice for those hoping to reverse the effects of aging?
"There is no singular panacea to beat the effects of aging, but if you can put together rituals that can fight the Core 4 aging enemies: Nutrition/skin care/fitness/medical you can seriously slow down the game. The low-hanging fruit? Stay away from poor quality food that causes inflammation, find a face cleanser, vitamin C serum, moisturizer, and sunscreen to wear every day, work your ass off in the gym, and have a real relationship with your doctor, not just once a year."
Kevin's Favorite Products:
BIÂN Botanical Facial Cleanser
BIÂN Refining Facial Cleanser
BIÂN Vitamin C Serum – Dry
BIÂN Vitamin C Serum – Oily
BIÂN Hydrating Oil
BIÂN Silk Facial Moisturizer
BIÂN Vivid Facial Moisturizer
1100 Central Ave., Wilmette
Best advice for those hoping to reverse the effects of aging?
"We all only have one face and only you can take good care of it twice daily. However I, as a practicing licensed esthetician for 17 years, can take magnificent care of it for you on the next level once a month with a little extra pampering TLC. I like to refer it to seeing your dental hygienist for a 6 month cleaning, but a little more regularly and relaxing. Take the time (5 minutes) for your skincare steps: cleanser, toner, eye cream, antioxidant serum, SPF (AM), corrective night treatment (PM), neck and décolletage firming cream, and hand moisturizer. Your eyes, neck, and hands usually show aging first; so don't neglect these areas. Your cells repair themselves at night, so be sure to give your best cleanse in the evening. The sun is our biggest skin ager. Sun protection is recommended everyday of at least SPF 30. Try to avoid the sun between 10 AM – 2 PM and wear a wide brimmed hat. However if you are active in the sun, re-apply sunscreen every 2 hours."
Stephanie's Favorite Products:
"Think of your skincare as an investment, not an expense. Here are my three award-winning go-to multi-functional products for all skin types." Stephanie's picks are all available from skinbetter science — register for free shipping!
"We all know you need an antioxidant for anti-aging to defend against free radicals (wrinklers, agers). Usually our first go to is Vitamin C. This product is next level Vitamin C+! It has 19 antioxidants including the most popular Vitamin C & E."
"The gold standard for wrinkle reduction is known as ingredients with retinoids & AHAs. This night cream incorporates both to speed up cellular turnover and antioxidants to neutralize free radicals for minimal skin irritation."
Sunbetter® TONE SMART SPF 68 Sunscreen
"We all want easy multi-functional products — less is more! This is an SPF 68 mineral sunscreen that acts a primer under your makeup. It provides the UVA, UVB, blue light pollution & infrared radiation protection you need with a hint of color to balance your skin tone."
Kathy Pappas, Owner at Egea Spa
1521 Sherman Ave, Evanston
Best advice for those hoping to reverse the effects of aging?
"Start as soon as you can! Along with using a result oriented skincare regimen, invest in some non-invasive laser treatments like a Clearlift (a lunchtime no pain, no downtime, one-hour facelift) that will rebuilt your collagen, reduce lines and the impact of environmental stressors and free radicals. Finally, don't forget your neck and décolleté. Often neglected, these areas can reflect your age immediately! Your skin in these areas are a bit more delicate BUT need the same attention as your face. Neck and décolleté medical grade peels quarterly are a must to your maintenance regimen along with keeping these areas clean and exfoliated after working out, traveling, playing sports, living life!"
Kathy's Favorite Products:
Hydropeptides 5xs Power Peel Resurfacing Pads
"Secret weapon for active lifestyles. Individually wrapped, convenient to carry in your purse, throw in your gym bag or travel bag. You can swipe them over your face, neck, and décolleté."
In Spa Medical Grade Neck Décolleté Peel: Glytone USA
In-Spa Service: Harmony XL Pro Skin Rejuvenation
---
More from Better:
If you buy something through our links, Make It Better Media Group may earn an affiliate commission.
---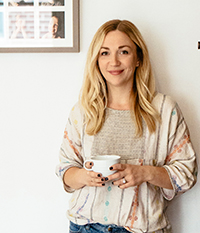 Macaire Douglas lives in the Chicago suburbs with her husband and two sons. She proudly supports Save Abandoned Babies Foundation, a Chicago-based nonprofit organization that works tirelessly to prevent the illegal abandonment of newborns nationwide. Since its inception in 2000, more than 3,600 newborns have been safely surrendered and adopted into loving homes.