As we head into 2021, many people are adding climate resolutions to their list along with the usual health and wellness resolutions—so why not combine the two? With endless options to work out at home now, including through local businesses, there's no excuse not to take care of your body during our continued isolation this winter. And while you may not be hitting the gym this winter and spring, some slick new workout clothes can help motivate you to break a sweat. Not only do these sustainable activewear brands deliver good-for-you—and the earth—fitness wear, they help you look good while you're burning off those holiday calories.
From the beginning, Outdoor Voices designed their product through "the lens of longevity and circularity" to reduce their environmental impact. This includes using sustainable alternatives for fabrics, including recycled and organic fabrics, and using recyclable or reusable packaging. This mission extends to their headquarters and stores too—using sustainable building elements, eliminating single-use plastics and more.
What we're loving right now: The All Day Longsleeve, made from their CloudKnit, which is the softest material you will ever wear. $68
Pick it up locally at Outdoor Voices in Lincoln Park, at 841 W Armitage Ave., Chicago.
View this post on Instagram
Having recycled more than 1,080,252 bottles since 2015, Nimble encourages everyone to sweat sustainably. Their custom-engineered fabrics, MoveLite and COMPRESSLITE™, are made from post-consumer used recycled plastics. Their mailer bags are even compostable, returning to nature within 180 days.
What we're loving right now: The quick-drying On Track 7/8 Tight, which has a hidden drawcord and pocket. $100
Supporting modern-day athletes to maintain an ethically responsible lifestyle, Plant Athletic is the leading source for specific technical athletic wear that is good for the planet. Their products are Peta-approved Vegan, global recycled standard and take every opportunity to reduce their carbon footprint.
What we're loving right now: The Pro Cycling Jersey, which comes in a wide range of colors and patterns. $105
Better Days, very fittingly named, makes better clothes for a cleaner planet with their organic, zero waste and closed loop production process. Their soft organic basics are 100% recyclable and every time you purchase an item, you help save 700 gallons of water. Plus, when their clothes eventually do wear out, you can send them back for a discount on new clothes.
What we're loving right now: The Cool Days Jogger, perfect "WFH" (whatever from home) solution. $54
View this post on Instagram
The fan favorite uses responsible supply-chain methods, including partnering with vendors who share their values and commitment to the well-being and safety of the people who make Lululemon. The company also partners with United Nations for their Peace on Purpose initiative, that provides more than 650 United Nations humanitarian workers in eight countries with yoga and mindfulness training to help counteract stress and strengthen leadership.
What we're loving right now: Down For It All Jacket, which makes winter running possible, and is filled with down that is certified to the Responsible Down Standard (RDS). $198
Pick it up locally at one of their several Chicago-area stores.
View this post on Instagram
Encouraging customers to be their most authentic self, Beyond Yoga takes the same pledge with their manufacturing and community work. Made in California, their approach is as clean as possible, ensuring fair and safe work conditions, and that their fabrics are good for the planet.
What we're loving right now: The Spacedye Jogger — lightweight enough to sweat in, but soft enough to lounge in, too.
View this post on Instagram
"Trash looks better on you than it does polluting the planet," is what Girlfriend Collective proclaims, and we have to agree. Their bestselling leggings are ethically made, and last year they even helped recycle 9,773,326 water bottles, prevented 8,670,564 lbs of CO2 and saved 21,135,125 gallons of water.
What we're loving right now: The Float Seamless Bike Short, for our indoor cycling classes. $48
View this post on Instagram
Nube makes it easy to shop with a conscience, since all of their goods are manufactured in the US from recycled materials using the best practices in sourcing and production, with an aim on reducing waste and environmental impact.
What we're loving right now: Artifact Crop Tank, in a fun, geometric print. $45
With transparent pricing, ethical factories and quality fabrics, Everlane believes that "we can all make a difference." They have committed to only source their clothing from the best factories around the world, using recycled fabrics as much as possible.
What we're loving right now: The Perform Legging, that not only features a high waist, but has pockets. $58
View this post on Instagram
Pact is "pretty into the planet." An early game changer in the basics and athleisure game, Pact's organic, fair-trade-certified cotton has helped save 11.18 million gallons of water. Even better, they have a clothing donation program that makes their gently used, and other gently used organic clothing, accessible to all.
What we're loving right now: The 100% cotton, wireless modern racerback bra. $25
If you buy something through our links, Make It Better Media Group may earn an affiliate commission.
---
More from Better:
---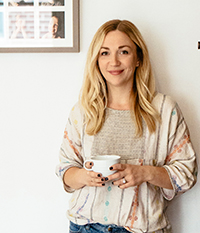 Macaire Douglas lives in the Chicago suburbs with her husband and two sons. She proudly supports Save Abandoned Babies Foundation, a Chicago-based nonprofit organization that works tirelessly to prevent the illegal abandonment of newborns nationwide. Since its inception in 2000, more than 3,600 newborns have been safely surrendered and adopted into loving homes.