Following its success in Europe and Australia, the first Sober October campaign is happening in the United States — encouraging people to take a month-long break from alcoholic beverages before the holiday season begins. Sober October is tied to Smart Recovery, a nonprofit that gives free assistance to anyone struggling to overcome addiction. The premise is simple: by September 30, make a pledge to go alcohol-free for the month of October and enlist family and friends to help raise money for other Americans in recovery.
Although alcohol is commonly seen as a way to unwind from a stressful day, many of us do not realize how our drinking habits may be making things harder for ourselves — especially considering that excessive drinking has increased by 21% during the pandemic, and one in four Americans have increased their consumption to battle pandemic-related stress. A Gallup poll found that 53% of people surveyed consume between 1 to 7 drinks a week, with 12% of Americans consuming 8 to more than 20 drinks.
All those alcoholic drinks have calories which add up over time. An average size glass of white wine is approximately 120 calories; a can or bottle of beer has approximately 150 calories. The biggest offenders are fancy mixed drinks like pina coladas and frozen margaritas, which can pack a punch of 700 calories or more.
There's also the mental health downside of drinking. "Sometimes people don't think about the fact that heavy drinking can not only cause things like weight gain and painful hangovers, but that alcohol is actually a depressant," said Luke Frazier, director of marketing and communications for Smart Recovery. "That's why taking a break from drinking for a month, and taking a look at how it affects your life, is a great idea. You'll probably feel better physically and adopt a more positive outlook."
5 Additional Reasons to Go Sober This October
In addition to reducing calories and increasing your mental well-being, there are other health benefits to reap from taking a break from alcohol:
Better Sleep: Although alcohol may make you feel sleepy, it often stops you from getting the best sleep. Even a small amount of alcohol can decrease your sleep quality by 9.3%, and moderate amounts (or approximately two drinks) can decrease your sleep quality by 24%.
More Energy: Tied to your quality of sleep, alcohol can make you feel tired or lethargic throughout the day, especially if you do not stay hydrated. Alcohol can also impact your gut biome and make it harder for your body to absorb key nutrients that keep you healthy and energized.
A Clearer Head: Waking up with a pounding headache and inability to focus makes it hard — if not impossible — to have a productive day, and this only gets worse if it becomes a common occurrence.
Healthier Skin: Alcohol dehydrates you and negatively impacts your skin. Common symptoms include dry skin, dark circles and bags around your eyes, and decreased skin elasticity (causing wrinkles).
More Money in Your Wallet: Millennials spend an average of $300 a month on alcohol, and Gen-Xers spend approximately $150 per month. That's a lot to put back in your wallet to spend on things like healthy take-out, a new outfit or even a trip to the spa. Even better, use some of that unspent money to help others in addiction recovery, by participating in the Sober October fundraiser.
For those who are abstaining but still want to have a fun beverage in hand from time to time, there are plenty of great mocktail recipes, too.
Mocktail Recipe: Shirley Ginger
Ingredients:
4 cups ginger beer (we used Brooklyn Crafted Lemon Lime Ginger Beer)
1 cup club soda
3 tbsp lime juice
1/4 cup grenadine
Instructions:
Stir ginger beer, club soda, lime juice and grenadine in a pitcher. Pour into tall glasses with ice. Garnish with lime rounds and or maraschino cherries.
---
How to Help
Consider giving back or supporting the below recovery organizations:
For a list of the top 20 rehab centers in Chicago, visit Rehab Aid.
---
More From Better:
---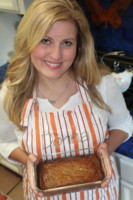 A freelance writer in Marin who writes about family, kids and parenting, Glass is the mother to one son, one dog and a hamster named Miss Geri. When she's not writing, trekking up steep hills in Marin or driving her kid to sports practice, she and her family spend time in their tiny cabin in Lake Tahoe. She avidly supports the California Academy of Sciences, a world class science museum and research institution, and the Institute on Aging which provides much needed services to Bay Area seniors and disabled adults. Glass is obsessed with baking the perfect loaf of banana bread, something she makes so often she no longer needs to look at a recipe card.