As we've watched the coronavirus pandemic change everything before our eyes, businesses and organizations globally are having to be agile and adapt. Just as so many others have, the Executives Club of Chicago has canceled or postponed programming for the time being and is encouraging the community to revisit their impressive body of past content. In doing just that I found myself recalling the vision and advice that Land O'Lakes cooperative president and CEO Beth Ford shared during a presentation to the Executives Club last May. In light of current events, her words have proven to be even more salient than when I first heard them. At her presentation, Ford outlined the importance of:
Bridging the urban/rural divide
Understanding that the vast majority of farms are still family owned
Using technology wisely and widely
Collaborating with others to turn problems into solutions
Innovating around consumer tastes
Most people think of Land O'Lakes as the "butter company." Actually, it's a farmer-owned cooperative, founded in 1921, which runs four lines of business that span the entire "farm to fork" food cycle. These lines include services, research and innovative technologies that help all farmers work smarter.
Ever innovating, the entrepreneurial farmers who are part of this cooperative prioritize a supply chain and delivery system that minimizes contamination of their products. A December pilot of a cross-country delivery of 20 tons of butter using a self-driving truck showcased one such innovation—and seems particularly relevant in the face of the current need for social distancing.
With global food demand ever on the rise, farmers are increasingly looking to technology to help take the guesswork out of agriculture. And yet, as Ford explained, "30,000 agricultural tech jobs go unfilled each year." While COVID-19 has already caused the nation's unemployment rate to skyrocket, farmers continue to go to work to ensure the nation's food supply remains uninterrupted, giving some hope that there will still be plenty of demand for agriculture jobs should a recession hit.
"No one is more entrepreneurial than farmers," Ford said. "They are the original entrepreneurs. It can be too hot, too cold, too dry, they figure it out."
Ahead of the company's 100th anniversary next year, Land O'Lakes recently released new packaging that celebrates the brand as "Farmer-Owned" and "All Together Better."
This approach to branding resonates louder than ever with consumers. Cooperatives of family-owned farms, like Land O'Lakes, are perfectly placed to capture a growing share of the market. Cooperatives reinvest in their communities, garnering local support in these complicated times.
Ford grew up the fifth of eight children in a working-class family in Iowa. In a video for Fortune titled "Bring Your Best Self," she cites the lessons she learned during this time as the key to her success.
Her mother taught her early to articulate her ideas and needs. By age 12, Ford was earning $2 per hour de-tasseling corn and she's never stopped working. Her career has included leadership roles in six different industry sectors. But she shines brightest when she discusses the honor of working with, serving and solving problems for farmers.
Land O'Lakes now forms strategic collaborations with organizations like the Gates Foundation, Nature Conservancy, Project Gigaton for Walmart, Environmental Defense Fund, education institutions and NGOs to find solutions to significant agricultural problems. An example is a methane reduction project in California that ultimately helped farmers capture methane and pipe it underground to fuel Los Angeles city buses.
Under Ford's vision and leadership, Land O'Lakes and the organizations that partner with it are creating a healthier food production and delivery cycle, while strengthening the families and communities that the cooperative serves.
Ford recently shared her perspective on the large-scale farm-to-table delivery cycle, telling CNN that, despite distribution challenges tied to coronavirus, our country maintains a sufficiently abundant food supply. The challenge is delivering it. American consumers have already felt the effects of this as they've faced empty store shelves and failed to secure grocery delivery slots.
Knowing that visionaries like Ford are working hard to keep the supply chain moving during these troubled times provides some solace that our nation and the economy will pull through what's become an unprecedented stress test.
More from Better:
---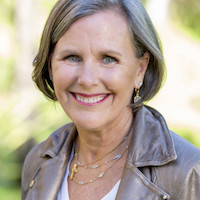 Susan B. Noyes is the Founder & Chief Visionary Officer of Make It Better Media Group, as well as the Founder of Make It Better Foundation's Philanthropy Awards. A mother of six, former Sidley Austin labor lawyer and U.S. Congressional Aide, passionate philanthropist, and intuitive connector, she has served on boards for the Poetry Foundation, Harvard University Graduate School of Education Visiting Committee, American Red Cross, Lurie Children's Hospital, Annenberg Challenge, Chicago Public Education Fund, Lyric Opera of Chicago, Chicago Symphony Orchestra, New Trier High School District 203, and her beloved Kenilworth Union Church. But most of all, she enjoys writing and serving others by creating virtuous circles that amplify social impact.