This year has stretched us all in innumerable ways, so if you're in a position to donate, your impact will be felt deeply by the organizations working hard to lift up our communities—and the people they're helping. We've taken the guesswork out of your giving this holiday season by highlighting some of the most deserving Chicago and North Shore-based organizations making an impact during this trying time.
Featured Charities
Want to give but wondering where to start?
The Lake County Community Foundation (LCCF) is your charitable compass to help you navigate your giving!
LCCF's mission is to improve the quality of life of the county's most vulnerable residents. We serve as Lake County's go-to philanthropic resource by supporting local nonprofits through our grant making to address basic human needs in our county and pooling the financial resources of individuals, families and organizations to drive positive change and make Lake County a better place for all.
What We Do
We provide a trusted, permanent home to support your philanthropic goals by identifying your passions to make the most impact with your gifts.
How We Support Your Philanthropy
Whether you want to create a Donor Advised Fund, support a particular community need or are considering a bequest to a favorite nonprofit, let us support you.
There are countless ways to give. For example, a donor specified in her will that a fund be created and held at LCCF to permanently support special projects at a local school district. This fund continues to enrich students and her legacy lives on. Another donor recently opened a fund to involve her children and create a family culture of philanthropy.
Together, we can transform your vision into a powerful charitable legacy!
The Lake County Community Foundation
847.377.0520 x22 • lakecountycf.org
1200 University Center Drive, Suite 333
Grayslake, IL 60030
Our Mission
YWCA Evanston/North Shore is a social justice organization dedicated to eliminating racism and empowering women.
What We Do
We work at the individual, community, and system levels by combining direct service to women and children with training, education, and advocacy in four interconnected areas:
• Domestic Violence Services: Crisis intervention, shelter, counseling, and legal advocacy help survivors and their children get safe, heal from trauma, and take control of their own futures.
• Women's Economic Advancement: Money management, in-demand job training, and employment and housing supports build economic security and housing stability.
• Equity Institute: Training and education, community engagement programs, awareness-building events, and advocacy promote racial and gender equity.
• Flying Fish Aquatics: Swim lessons and swim team opportunities ensure all children have equal access to water safety instruction so they will be safe in and around the water.
Our Women's Resale Shops 100% of profits from our two shops for women support our mission:
• YWCA Shop for Good, a resale boutique at 1107 Central Ave. in Wilmette
• YWCA Crowded Closet, a consignment shop at 820 Dempster St. in Evanston
Arts and Education
The Brushwood Center, which sits in the heart of the Ryerson Woods, has been preserving the natural area since 1984. The center serves to educate people on the benefits of nature and science-based education through the arts. brushwoodcenter.org
The Comer Education Campus, consisting of the Gary Comer Youth Center, Gary Comer College Prep and Gary Comer High School, is a youth-supporting organization. Beyond academics, the teachers at Comer dedicate themselves to providing arts and career enrichment opportunities. Gary Comer was a native South Sider. He opened the youth center in 2006, and since, the campus has been preparing youth to be college or career-bound, well-rounded individuals. The Comer Education Campus also accepts volunteers. comereducationcampus.org
Funds raised help change a child's life by offering them a chance to escape Chicago's street violence and experience a safe place to learn, grow and simply be a kid. 1,000 children from Chicago's most economically disadvantaged neighborhoods experience outdoor education sessions with a STEM curriculum during the school year, and residential summer camp. northshoreboard.org
This organization, a 2015 Philanthropy Award winner, helps bring art of all kinds to children in hospitals through one-on-one sessions with a variety of artists. Currently, Snow City has had to suspend on-site programming at all hospitals in order to ensure the health and well-being of its clients. That means it's even more important to provide monetary support so the program can get up and running again as soon as the pandemic winds down. snowcityarts.org
"Remember the Past, Transform the Future" is the Illinois Holocaust Museum's motto. The Museum's purpose is to preserve the legacy of the Holocaust by "honoring the memories of those who were lost and by teaching universal lessons that combat hatred, prejudice and indifference." Make a donation to the Illinois Holocaust Museum today to help continue preserving precious artifacts, survivor stories and support the museum's educational outreach. www.ilholocaustmuseum.org
Disaster Relief
The American Red Cross helps people whose lives have been upended by wildfires, storms, floods, and countless other crises. A donation will not only help with immediate needs like food and shelter, it also will put people on the road to recovery and guide communities as they better prepare for disasters. Your donation will be matched dollar for dollar up to a total of $100,000 thanks to a generous Matching Gift Challenge funded by:
Virginia Blankenbaker
Cynthia Helle
Ray and Judy McCormack
Susan and Nick Noyes
Jenny B. Stoddard
Jan Tratnik and Tim McPike
redcross.org/donate/cm/makeitbettermedia-pub.html
Domestic Violence
A Safe Place gives women options and resources to share their experiences and set goals for themselves. Children's counselors provide children who are witnesses of domestic violence an outlet to deal with their experiences and feelings. asafeplaceforhelp.org
As one of the largest domestic violence service and housing programs in the state of Illinois, WINGS provides individual women and women with children a temporary, safe shelter and assistance that allows them to set goals, work to achieve them, continue their education and care for themselves and their children. wingsprogram.com
Food
Located in the Roger's Park neighborhood of Chicago, A Just Harvest aims to fight poverty and hunger in the north side of Chicago. Besides directly providing food for the hungry, A Just Harvest also spends their time with community organization and outreach. Before the pandemic, the organization fed an average of 170 individuals a night. A Just Harvest also accepts volunteers. ajustharvest.org
You may donate shelf-stable, canned, and/or packaged food items to this Evanston food pantry. hillsidepantry.org
Lakeview Pantry has been feeding hungry people in Chicago since 1970 and with the job market as unstable as it is, they're likely to be feeding a lot more hungry people in the coming months. They are currently seeking donations of nonperishable, unopened foods as well as personal hygiene, bathroom and cleaning supplies. lakeviewpantry.org
Northern Illinois Food Bank is the source of nutritious food, innovative feeding programs, and hope for more than 71,000 people each week. As a nonprofit organization with a goal of solving hunger in their 13-county service area, they rely on community partners such as local food pantries and feeding programs, food manufacturers and retailers, companies, foundations, and individuals to join them so no one is hungry in northern Illinois. solvehungertoday.org
The Volunteer Center helps connect eager volunteers to organizations and opportunities around the greater northeast Chicagoland area. Working with more than 165 nonprofit organizations, the center sponsors four (and more) annual community Days of Service. The center's mission states that they aim to "promote volunteerism, support nonprofit organizations, and engage people in meaningful volunteer service in the communities we serve. volunteercenterhelps.org
Healthcare
The Forward4Tobi Foundation aims to help ease the lives of breast cancer patients and their families by providing financial relief. The foundation covers childcare, medical assistance, rent and other needs. Tom Klonecki established the foundation in 2013 in honor of Tobi Lauren Klonecki when Tobi lost her battle with breast cancer that year. The Forward4Tobi Foundation also accepts volunteers. forward4tobi.org
Housing & Anti-Poverty
A Safe Haven provides housing for individuals and families whose lives have been impacted by addiction. A Philanthropy Awards winner and a Warming Hearts & Hands recipient, A Safe Haven has served more than 65,000 people. Additionally, the foundation supports military veterans, as well as those discharged from local jails and prisons. asafehaven.org
Created as a central Catholic charity in Chicago in 1917, Catholic Charities has grown to become one of the largest agencies in the Midwest, helping more than 1 million people each year. The Housing Service Area provides safe and affordable housing for individuals and families. With emergency shelters, transitional and permanent housing, senior residences, housing for those with disabilities, and one nursing home, Catholic Charities provides safe and supportive communities for people throughout Chicago and its suburbs. catholiccharities.net
Searching for solutions to enable those with disabilities to live a life full of opportunities, the organization emphasizes choice and encourages responsibility. The New Futures Initiative helps families find housing solutions for their loved ones with disabilities. independentfutures.com
Deborah's Place is all about opportunity. By providing women with supportive housing and services, they help women heal, set and achieve goals and move on from the experience of homelessness. deborahsplace.org
As one of the world's leading anti-poverty organizations, their mission is to advance human rights and respond to human needs of endangered populations by providing appropriate services and promoting permanent solutions that will lead to a more just global society. heartlandalliance.org
H.O.M.E is dedicated to improving the quality of life for Chicago's low-income elderly, helping seniors remain independent and ensuring that they continue to be a part of their community by providing a variety of housing support services. homeseniors.org
This organization works to help teens experiencing homelessness and unstable housing, and these at-risk youth are even more at-risk in our current environment. ignitepromise.org
Originally serving as a refuge for homeless boys that crowded the city's streets, Mercy Home has since expanded into a haven for more than 200 boys and girls in their West Loop and South Side campuses. The treatment homes at Mercy provide children, ages 9-21, with a safe and nurturing environment where they can receive the necessary support and mentoring needed to turn their lives around and have successful futures. mercyhome.org
The Night Ministry has touched thousands of members of the Chicago community struggling with poverty or homelessness by offering outreach services like the Health Outreach Bus that offers medical exams, treatment and HIV testing, short-term housing and transitional living programs, and human connections, such as their Youth Outreach Program that offers non-judgmental support and guidance to homeless and LGBT youth in the Lakeview area. thenightministry.org
Sarah's Circle provides a full continuum of services for women, including housing, life necessities, and supportive services, to help them permanently end their homelessness. sarahs-circle.org
Where to Donate
Due to COVID, the Lurie Hospital is currently only accepting donations made through their Amazon Wish Lists. These lists are composed of items directly requested from the teams within the hospital. luriechildrens.org
Beacon Place is a community center in southeast Waukegan with programs for kids and adults that allow them to see a path toward their own brighter tomorrow by building the life skills they need, to achieve the dreams that they want. beacon-place.org
Bernie's Book Bank collects new and gently used children's books to distribute to at-risk homes throughout the Chicagoland area. Each child the organization serves receives at least 12 books a year. berniesbookbank.org
Donate gently used books to Books4Cause, an organization that, through used book donations, has created 20 libraries in Africa, and keeps books out of landfills. All K-12 books given to the organization are donated, and 13 percent of other book donations are sold while the rest are given away or recycled. books4cause.com
Brown Elephant supports Howard Brown Health using money earned from the resale of donated items. Bring in any upholstered furniture, tables, dressers, bookcases, and more. howardbrown.org/get-involved/brown-elephant
Another charity that serves the indigent population of Chicago, Connections for the Homeless is seeking canned and shelf-stable foods, adult clothing (men's boots and belts) and new, unopened toiletries and healthcare items. They are not currently accepting other clothing items or household items. connect2home.org/inkind.html
https://www.instagram.com/p/CG8KCU5BUmN/
Providing low-income and homeless children with clothes, books, school supplies and more, Cradles to Crayons helps serve nearly 200,000 children living in poverty in Chicago. cradlestocrayons.org
Gently used suits and professional apparel donations allow Dress for Success to provide interview outfits for women, supporting them in their efforts to achieve their career goals. The program also offers guidance and support for women who have an upcoming interview. Donations must be clean and ironed, and no more than five years old. worldwidecentral.dressforsuccess.org
Fill a Heart 4 Kids' mission is to help vulnerable homeless youth and foster children living in institutions to feel loved and remembered through a special gift-giving program. fillaheart4kids.org
All proceeds from the ReStore go to Habitat for Humanity, a nonprofit organization that works to provide families with affordable, safe housing and has built 90 homes in Chicago neighborhoods. habitat.org/restores
North Shore Exchange supports charities that provide human services and education to low-income families in the Midwest. northshoreexchange.org
Open Books collects used books to sell in their Pilsen and West Loop stores and online. The money collected helps fund book granting programs for thousands of students around Chicago each year. The organization accepts "any sellable book in good condition," as well as LPs, CDs and DVDs. open-books.org
By providing opportunities and goods, RefugeeOne helps refugees fleeing war and persecution from all parts of the world. The organization is currently accepting backpacks and school supplies, but donation needs vary by month. refugeeone.org
Change a child's life with a donation of diapers, strollers and more. Drop off, or schedule a pick-up for their most requested items. shareourspare.org
All proceeds from this Northbrook nonprofit support 17 local agencies serving women and families in crisis. Small furniture items can be dropped off during business hours, and larger items must be previewed before donating. villagetreasurehouse.org
World Relief Chicago provides cleaning supplies, linens, toiletries, kitchen items, furniture and more to immigrants and refugees who have fled their countries due to war and displacement. worldreliefchicago.org/donateitems
---
MORE WAYS TO HELP: It's our mission to make it easy for you to support your community. Get involved by participating in an upcoming fundraiser, doing your holiday shopping at a local business, ordering takeout from a local restaurant, and signing up for our Better Letter, where we keep you up to date on the best ways to support local restaurants, shops, and nonprofits.
---
More from Better:
---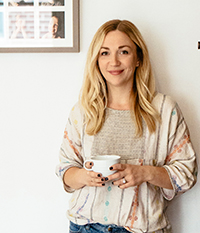 Macaire Douglas lives in the Chicago suburbs with her husband and two sons. She proudly supports Save Abandoned Babies Foundation, a Chicago-based nonprofit organization that works tirelessly to prevent the illegal abandonment of newborns nationwide. Since its inception in 2000, more than 3,600 newborns have been safely surrendered and adopted into loving homes.