Tree-shakers. Changemakers. Barrier-breakers. These influential and powerful women in Marin County and the Bay Area have shattered molds, overcome adversity, overcome gender and racial bias, taken on intense challenges, and set in motion courses of action not imagined a decade ago.
Felecia Gaston
As a young girl in Georgia, Felecia Gaston wanted to take ballet, but segregation laws wouldn't allow her. As an adult, she dreamed the youth around her would have the opportunities she didn't. So, in 1990, with no budget but a sense of determination, she founded Performing Stars of Marin to offer arts and enrichment programs to underserved youth. Today, Performing Stars has served more than 3,000 youth from diverse backgrounds, mostly low-income, with scholarships enabling them to participate in a variety of music, theater and dance programs, as well as sports, recreation, camps and more. The organization has a deep emphasis on building children's pride, character, discipline and self-esteem, and in setting them on a path to success. Along with leading Performing Stars, Gaston has planned events for celebrities such as the late Bishop Desmond Tutu, Spike Lee and Danny Glover. She produced the Marin City Blues and Soul Festival for 15 years.
She is the author of several books and has penned guest articles for local media — the list of awards and public accolades bestowed on Gaston is a lengthy one. Gaston's latest passion project is #MarinCity80 — a yearlong celebration of Marin City's 80th birthday, the community in which she lives and adores. The #MarinCity80 celebration largely centers around sharing many untold stories of the Marin shipyard builders from World War II, many of whom were Black families who relocated to Marin City and often worked seven days a week building ships needed during wartime. The celebration includes several art installations showcasing stories of key characters from the shipyard era, theater performances with actors from Performing Stars and a music festival. "I always want our community to be seen as a place of pride and strength, to showcase the pioneers who left the Jim Crow south to start a new life for themselves and their families and work in the Marinship yards, and their patriotism to fight in World War II," she says.
Birgit Cameron
Birgit Cameron and Patagonia retail founder Yvon Chouinard created Sausalito-based Patagonia Provisions with the purpose of extending Patagonia's environmental mission by teaming up with forward-thinking farmers, ranchers and fishermen who produce their goods with the ecosystem first and foremost in mind. "We started by identifying environmental problems related to the food industry, explored the solutions by working with scientists and industry folk, then created food (and beer!) that helped solve the problems, all the while showcasing solutions," Cameron says.
"All products and initiatives ladder up to our mission statement that we are in business to save our home planet." It's a concept that's proven to be highly successful. Patagonia Provisions can now be found at 3,000 upscale grocery stores, co-ops, specialty food stores and more across the United States. Cameron says that it's a great moment in time for entrepreneurs to start new solutions-based businesses, and for big business to recalibrate and move toward a "solutions mindset." "There are so many solutions amongst the brightest scientific minds and entities around the world," she says. "Contrary to much of the mood out in the world right now, this is a moment of hope. It's our job to tease that science out and give it life."
Maureen Sedonaenceo
Getting anyone with decision-making power in Marin County to unanimously agree on anything, without public opposition, is quite a feat. But for Maureen Sedonaen, who leads Habitat for Humanity serving families in Marin, San Francisco and San Mateo counties, it was a real feather in her cap when, earlier this year, the Novato City Council green-lighted her organization's plan to build 80 affordable homes, plus a one-story office building, on Redwood Boulevard. Calling it "her best career moment," she quickly adds, "I'm so proud of my team and all of our partners for getting approval for one of the largest-ever 100% affordable homeownership projects in Marin. I love working to change policies that bring equity and justice (social and environmental) to those most marginalized in our communities."
Along with having served as a mentor, advisor and strategist to numerous start-ups, philanthropic foundations, municipalities, school districts and business groups across the United States and abroad, Sedonaen is a member of the Habitat for Humanity International U.S. Council, serves on the board of trustees of the Marin Community Foundation's Housing Action Coalition and is currently the board chair of Habitat California. "I'm extremely passionate about young people and their success," says Sedonaen, who advises up-and-coming women to "be clear, be unapologetic and be a lifelong learner. Dedicate your work to double and triple bottom lines, keep your bar high and have fun while doing it."
Carolyn McGourty Supple
The #MeToo movement shone a spotlight on the problems not only in Holly wood and corporate America, but also within news media organizations reporting on those stories of power abuse. #MeToo served as the catalyst for Carolyn McGourty Supple, a former journalist with ABC News, to create the Center for Ethical Leadership — a nonprofit centered on advocating for humane and healthy work environments within the media industry, including teaching ethical leadership and management at the collegiate level for future journalists.
Supple, who lives in Mill Valley, has centered her work around creating a safe, fair and sustainable news media industry through education, research and leadership. Eliminating harassment and discrimination in the workplace is a big part of her mission, because she believes those issues are at the heart of ethical leadership and are not just a women's issue. "Every industry at every level has been rocked by revelations of leaders who abused their power," McGourty Supple says. "Working with scholars, we uncovered that while it was critical to let go of perpetrators, it's even more important to address the individuals and systems that enabled such abuse." Supple, who has gained national recognition as an expert on media, technology and leadership, and is a visiting professor at the University of Texas at Austin, examines how power is gained, how to manage it ethically and how to prevent its abuse. "Everyone deserves fairness, safety and dignity at work — regardless of industry," she says.
Casey Arndt
Casey Arndt grew up in a small Athabascan village in rural Alaska, where she learned to fish for salmon, mush sled dog teams and drive snow machines. As a self-described "wild child," she credits her unique upbringing and solace she finds in wild places for shaping her into a hard-working and stubborn woman who isn't afraid of getting dirty.
That's a good thing, as getting dirty is decid-edly part of Arndt's job leading the Richardson Bay Audubon Center & Sanctuary in Tiburon, where she and her year-round team offer a slew of community, youth and volunteer programs, as well as partake in ongoing restoration of the 900-acre subtidal sanctuary that serves as a critical stop for tens of thousands of wintering water birds. In the summer, her staff swells to include interns, fellows and camp employ-ees for the center's summer camp and youth activities.
The center's summer camp is a highlight for Arndt, because "it's fully inclusive of children of all abilities," she says. "I've seen campers thrive in our program. We also intentionally recruit teens from the area who need a second a chance, or a nudge in a different direction. I'm very proud to say that everyone is truly welcome at our center." As for those more challenging, get-dirty days, Arndt says, "I remember why I do the work. Because my work is also my passion; it makes those difficult days easier."
Air Gallegos
Director of Education and Career, Canal Alliance
At the height of the Covid-19 pandemic, San Rafael's Canal District was hit disproportionately harder than other areas in the county. At the center was Canal Alliance, a nonprofit organization based in the neighborhood that empowers immigrants to break the generational cycle of poverty in Marin. As a key member of Canal Alliance's leader-ship team, Air Gallegos held fast to her biracial Chicana background to find the strength and resolve to help Canal's mostly LatinX community members who, on average, live 200% below the poverty line, through pandemic hardships. "Prior to the pandemic, our community faced educational inequities; lack of access to infra-structure, such as digital connectivity, housing instability and basic needs instability; and layers of trauma from experiences of racism, poverty and migration," Gallegos says. "Yet the pandemic pulled back the veil of deep systemic inequities (even further), and while we were balancing the pain that was happening, we also found places of opportunity to create lasting change."
During the pandemic, Canal Alliance distributed more than $3 million dollars in financial support to families in dire need, plus offered rental assistance, online educational support, and an entire mesh internet network for local families to access vital health and resource information. It also engaged in criti-cal policy and advocacy work to change the systems that have been causing inequities in the first place. Gallegos attests that being a leader during the pandemic was both the biggest challenge and accomplishment of her career. "The pan-demic has forever changed my leadership; it has pulled out what has always existed within me but was quieter: integrity, justice, advocacy and adaptability," she says. "The last two years have been an incredible practice in change, and have pushed me to stay true to myself and the community I work in partnership with while holding the dream of a more just future."
Mary C. Daly
Life was tough for Mary Daly in her younger days. At 15, after dropping out of high school and finding herself working at a local donut shop, her future seemed less than bright. Then she met Betsy, who stepped in and helped Daly see what was possible. The mentor convinced Daly to get her GED and later go on to college.
"If you had told me that someday I'd not only be an economist but the president and CEO of a major public service organization, I would have dismissed it as unattainable," says Daly, who resides in Oakland. "Yes, I'm proud of what I've achieved over the course of my career, despite the obstacles. But I'm even more proud to pay Betsy's kindness forward and mentor others in my organization and in my community."
Today, Daly helps set U.S. monetary policy and oversees economic conditions in the Federal Reserve System's largest and most diverse district, encompassing nine Western states plus Samoa, Guam and the Commonwealth of the Northern Mariana Islands. She also oversees a staff of approximately 1,800.
Her passion is building an inclusive economy that works for everyone. And her advice for young people, especially those facing struggles as she did?
"Be your own North Star," she says. "And by that, I mean, stay true to yourself. Success shouldn't be one-size-fits-all. We all face barriers along our path, and we've all dealt with adversity at times. But if you nurture your own inner North Star, rather than follow what society expects of you, you'll find what success means to you."
Susie Woodall
Commissioner of the Marin County Athletic League
Recently retired high school teacher and coach Susie Woodall has seen athletics, especially inclusion within sports, come a long way since she started her career 44 years ago. "When I was a girl, the words 'female' and 'athlete' were never used together, and sports for girls were only done within a club," she says. Then Title IX came about, right around the time that Woodall started teaching and coaching, marking the beginning of the girls' athletics movement.
"As a young professional, there were very few women in leadership positions in the area of athletics," Woodall says. "I'm proud that the work I've done being a successful female coach and athletic administrator has led to where we are now."
Since 2000, Woodall has been the commissioner for the Marin County Athletic League, an organization that serves all nine high schools in Marin, both public and private, with the best athletic experiences possible as well as making sure all schools follow the appropriate rules and regulations.
She adds, "I have the best job ever. I get to work with high school principals and athletic directors to offer the most comprehensive sports offerings available. Athletics has given me and my family a lot over the years, and I want others to have the same or better opportunities."
Sandy Tong
As Assistant Deputy Chief, Sandy Tong heads San Francisco Fire Department's critical Emergency Medical Services (EMS) — the first Asian-American woman in that role. It's not a job for the faint of heart; more than 80% of SFFD's 911 calls are medically related, which means that first responders from Tong's 500-plus person team are often the first to reach the scene.
In addition, Tong oversees the fire department's Community Paramedicine program, designed to respond to behavioral health crises, handle overdose calls and assist people into treatment, and general outreach for those that are unhoused and in need. Due to the challenges created by income inequality and the fentanyl addiction issue in San Francisco, as well as emergency medical services calls, Tong and her team make a significant impact on a multitude of populations each day.
Tong's previous experience in EMS and as an EMT, paramedic and paramedic supervisor, plus her Ph.D. in organizational psychology, prepared her well for this very demanding role. But she also admits that she was "coaxed out of retirement" by San Francisco's fire chief, Jeanine Nicholson to take the job, nearly three years ago.
To cope with the daily demands of the job and intensity level, "I leave work at work, despite a job that requires me to be available 24/7," Tong says. "Separating work from home helps me rest and recharge, and that benefits both in the long run. It takes practice to compartmentalize — and a certain personality — but it has helped me maintain a healthy work-life balance."
Inspiring Advice From Inspiring Women
At Make It Better Media, Marin Magazine's parent company, we've been celebrating powerful women for over a decade — in the articles we publish in this print magazine and on our website, as well as in our virtual events, like the upcoming Celebrating & Empowering Women on Rise webinar on May 19 (Register at marinmagazine.com/virtual-events). These articles and events are filled with inspiring advice and words of wisdom from powerful, successful women working in many different industries on everything from igniting your passion to giving back to supporting fellow women. Here are just a few of their inspiring quotes that resonate with us.
Following Your Passion
"Be your authentic self. Being dif-ferent is a strength. And I'd share that one way I've advanced my own career has been to follow the rule of thirds: Always seek a position that is one-third comfortable, one-third a stretch, and one-third pure white-knuckle terror."— Nandita Bakhshi, President and CEO, Bank of the West
"Believe in yourself. If you don't, then surround yourself with people who believe in you and will support you."— Jeanine Nicholson, Fire Chief, San Francisco
"Find your differentiator, whether it's within your own business or just for yourself. Find that one thing that really sets you apart, and tell the world your story." — Cheryl Berman, Chief Creative and CEO of unbundled Creative
"As you're embarking on your careers, please do dream big and do not place limits on your dreams or aspirations based on others' or society's expecta-tions of you. Be your whole, authentic self, and bring both your head and your heart to your decisions in your work to achieve your dreams." — Rosalind Brewer, CEO and member of the board of directors of Walgreens Boots Alliance
Giving Back
"As soon as you are able, consider helping others through philanthropy. The more you can give away, the more you get back in return."— Helen Abe, Senior Vice President and Financial Advisor, RBC Wealth Management
"All of us can play a role because all of us have a voice. We can vote. We can demonstrate our values through who we put in office. But becoming educated about the issues in our region, and figuring out where you sit, is how you can make a difference."— Dr. Helene Gayle, president and CEO of Chicago Community
Women Helping Women
"Seeking happiness? Women are happier when we do things together and make an impact!" — Julie Castro Abrams, CEO of How Women Lead and GP of How Women Invest
"One of the things that I have learned in the 40 years of being a film festival director is that you have to be a door opener. Seeing and recognizing the potential of others, including women in movies and storytell-ing, is very exciting." — Zoe Elton, Director of Programming, Mill Valley Film Festival
"I've had a female mentor throughout my entire life, and there's nothing better than having a woman behind you."— Nurit Raphael, cannabis entrepreneur, OnaLife
---
More from Better:
---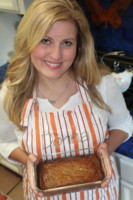 A freelance writer in Marin who writes about family, kids and parenting, Glass is the mother to one son, one dog and a hamster named Miss Geri. When she's not writing, trekking up steep hills in Marin or driving her kid to sports practice, she and her family spend time in their tiny cabin in Lake Tahoe. She avidly supports the California Academy of Sciences, a world class science museum and research institution, and the Institute on Aging which provides much needed services to Bay Area seniors and disabled adults. Glass is obsessed with baking the perfect loaf of banana bread, something she makes so often she no longer needs to look at a recipe card.