On April 28, the California Academy of Sciences made a joyous return to hosting its largest annual fundraiser, Big Bang | Next Wave Gala, in person. During the course of the evening, 920 guests filled the expansive museum in Golden Gate Park to learn more about and support the Academy's ambitious Hope for Reefs initiative involving cutting-edge research, global partnerships and powerful public engagement programs that will help save coral reefs for future generations.
The evening began with a cocktail reception on the Music Concourse, featuring live music by The Fil Lorenz Orchestra. Guests were greeted by Luiz Rocha, PhD, Curator and Follett Chair of Ichthyology and co-leader of Hope for Reefs who explained the project's second phase that is taking critical reef conservation work to the next level. Rocha then welcomed environmental advocate and keynote speaker Alexandra Cousteau, co-founder of Oceans 2050. Cousteau advocated for an approach that recognizes how crucial it is to preserve natural water systems while taking into account the numerous demands, threats, and developments within a generation.
Following the keynote address, guests enjoyed a seated dinner in the museum's piazza, featuring a menu of locally sourced, sustainable fare by McCalls. Scott D. Sampson, PhD, Executive Director and William R. and Gretchen B. Kimball Chair, shared the Academy's bold new mission to regenerate the natural world.
Later in the evening the Big Bang after-party welcomed a second wave of guests who enjoyed a dessert reception along with creative cocktails and festive music from DJ TOY. In the museum's East Garden, gala-goers played LED games, danced the night away in the silent disco, and posed for their very own magazine-style photo shoot, receiving a framed print to take home as a memento of the occasion.
By the end of the evening, the event raised a stunning $2 million to support the California Academy of Sciences' new mission to regenerate the natural world through innovative programs and initiatives like Hope for Reefs.
The gala was co-chaired by Kevin and Julia Hartz, along with corporate chair Jack Forestell.
Sponsors
---
More from Marin:
---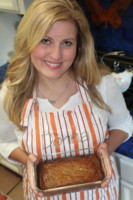 A freelance writer in Marin who writes about family, kids and parenting, Glass is the mother to one son, one dog and a hamster named Miss Geri. When she's not writing, trekking up steep hills in Marin or driving her kid to sports practice, she and her family spend time in their tiny cabin in Lake Tahoe. She avidly supports the California Academy of Sciences, a world class science museum and research institution, and the Institute on Aging which provides much needed services to Bay Area seniors and disabled adults. Glass is obsessed with baking the perfect loaf of banana bread, something she makes so often she no longer needs to look at a recipe card.