I don't know about you, but as soon as I get that first hint of fall in the air, all I want is pumpkin spice, campfires and cozy things. It's the perfect season for a good reason; we have Oktoberfest, the changing colors, a new excuse to buy boots and coats, and the ultimate holiday, Halloween.
If you are an autumn lover like me, you'll want to check out these candles that go well beyond pumpkin. I promise I've searched high and low for the best fall candles around, and these will deliver the warm fuzzies. Better yet, most strive to use clean ingredients and eco-friendly packaging.
Reminiscent of crackling wood, Wood Fire by Feu de Bois has a smoky scent that will fill up a room easily. The touch of amber really sets this candle apart from the rest. And when your candle is sadly done burning, you have a beautiful vessel for pens, make up brushes, or even match sticks to light your next candle.
Straight out of Salem, MA comes the best witchy candle, hands down. A collaboration between the popular Salem shop HausWitch, Soy Much Brighter and Illustrator Bill Crisafi, the Witches candle is a 100% soy wax candle with a wood wick that has the scents of smoke, vetiver and spruce. The wood wick adds a charming touch, as it flickers and lets off a little burning noise to really set the autumn mood.
Not only is this candle beautiful, but the combination of burnt maple, smoke and vetiver makes for the perfect fall evening. If that doesn't sound like your thing, Otherland has several perfectly-Fall scents to shop from. Kindling is a deep, smoky candle that reminds you of a sultry campfire, Cardamon Milk is a sweet alternative to pumpkin spice, and Dappled Wood is a warm, woodsy scent.
Proving the season is not all about pumpkin and smoke, in comes Homesick's Apple Orchard to remind us of days spent in the U-Pick orchard. The natural soy blend includes notes of red apple, mandarin leaf, clove, cinnamon sticks, pear, pomegranate and sugar cane. Yum!
With notes of dry hay, charred close, wood and smoke, this earthy blend from Boy Smells reminds you of crisp autumn nights. The coconut and beeswax blend is a beauty to burn, as long as you take care of your candles and trim your wicks (take it from Boy Smells candle care tutorial, they know their stuff!).
I know, I know… Yankee Candle. But hear me out. Witches Brew is an iconic blend of patchouli and other magical scents Yankee won't reveal, and boy, does it really put you in the Halloween mood. Plus, they usually have it available in several fun formats. If you want something a little less patchouli, try Mystic Moon, which is a combo of amber and sweet florals.
A warm and spicy scent, Voluspa's Pumpkin Spice is not too overly pumpkin, in the best ways. Key notes include kombocha pumpkin, coconut milk and spice, making it the candle version of my Starbucks PSL order.

Made from a natural beeswax blend, Spiced Sangria is a tantalizing mix of apple, red wine and cinnamon. Don't check out without adding Bow Down's Pumpkin Juice to your cart – it's "pumpkin spice but better!"
Let me tell you, I about cried when Illume discontinued my favorite Pumpkin Peppercorn. However, their new fall scent – Cassia Clove – has mended my broken heart with its notes of rich vanilla and warm spices.
A candle that promises to smell like holiday meals with family? Sold! Fall Feels includes white pumpkin and clove, giving off major pumpkin pie vibes. Anecdote's Sweater Weather is also a crowd pleaser, and smells like crisp air and cashmere cardigans.
Want more? Here are a few more fall-inspired candles and accessories we love:
If you buy something through our links, Make It Better Media Group may earn an affiliate commission.
---
More from Better:
---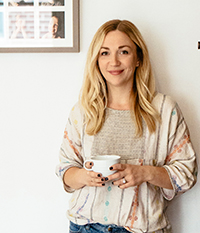 Macaire Douglas lives in the Chicago suburbs with her husband and two sons. She proudly supports Save Abandoned Babies Foundation, a Chicago-based nonprofit organization that works tirelessly to prevent the illegal abandonment of newborns nationwide. Since its inception in 2000, more than 3,600 newborns have been safely surrendered and adopted into loving homes.