After the 2020 Met Gala was canceled due to you-know-what, we were eagerly awaiting this year's big night. The 2021 theme was "In America: A Lexicon of Fashion," which translated to a celebration of American fashion. This left celebrity and high-profile guests with a lot of room for interpretation — was it all about American designers? Was it a celebration of what our American roots mean to us individually? However it was expressed, we were thrilled to see more sustainable, organic and up-cycled designs on the beige carpet than ever before.
If you too are feeling inspired by this year's Gala, here are six ways you can recreate some of our favorite sustainable looks at home.
The Inspiration:
Ella Emhoff in Adidas by Stella McCartney
Get the Look:
Ella was decked head to toe in custom Adidas by Stella McCartney, which was a nod to America's obsession with sportswear. The Adidas and Stella McCartney line is also sustainably made, combining fashion with performance sportswear, made with the planet in mind.
The Inspiration:
Maria Sharapova in Gabriela Hearst
Get the Look:
We are obsessed with the vibrant color of this gown made solely from up-cycled materials by Gabriela Hearst. Taking inspiration from the rich hue, which is perfect for fall, we found a few pieces that pay homage to this stunning look.
The Inspiration:
A$AP Rocky in ERL and Rhianna in Balenciaga
Get the Look:
Fashionably late, Rhianna and A$AP Rocky's looks may look comfy cozy, but they have a deeper meaning. Rocky's quilted ERL look is made from scraps of fabric and antique quilts sewn back together, including a piece of his dad's robe. Rhianna's design has a cultural significance, as it showcases diamonds from an upcoming Sotheby's show titled "Brilliant and Black: A Jewelry Renaissance."
The Inspiration:
Quannah Chasinghorse in Dundas x Revolve American Dream Collection
Get the Look:
Model Quannah Chasinghorse's outfit was full of meaning. From the beautifully cut Dundas x Revolve American Dream Collection dress to the Native American jewelry representing her roots, it was one of our favorite looks that perfectly captured the night's theme.
The Inspiration:
Kristine Froseth in Tory Burch
Get the Look:
The red, the classic cut, the pockets and that fabric… this Tory Burch look was as American as Apple Pie. Tory Burch, and the Tory Burch Foundation, are also known for their tremendous support to female entrepreneurs, giving this look even deeper meaning. Bring the look home with a similar halter dress, or with a sustainably made Reformation denim dress that is on theme.
The Inspiration:
Jordan Alexander in Christopher John Rogers
Get the Look:
The pops of bold rainbow color on the carpet were courtesy of 27-year-old American designer Christopher John Rogers, who has dressed Beyoncé, Lizzo and even the Vice President of the United States Kamala Harris. We loved this bright and fun look on Gossip Girl breakout star Jordan Alexander.
If you buy something through our links, Make It Better Media Group may earn an affiliate commission.
---
More from Better:
---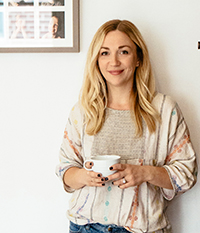 Macaire Douglas lives in the Chicago suburbs with her husband and two sons. She proudly supports Save Abandoned Babies Foundation, a Chicago-based nonprofit organization that works tirelessly to prevent the illegal abandonment of newborns nationwide. Since its inception in 2000, more than 3,600 newborns have been safely surrendered and adopted into loving homes.