Travel may be canceled this summer, but that doesn't mean you can't transport yourself to faraway places through a good book. Whether you are looking for a captivating novel or memoir, these books on our list, chosen by local bookstores, are just what you need.
2523 N. Kedzie Blvd. Chicago
Purchase curbside and online
"This book is set in the Cinque Terre region of Italy in the 1950's so the reader travels in time and place. The setting is absolutely critical to the story. I was immersed in the culture of the small Italian town and the natural beauty that is also isolating. This book is funny and filled with amazing characters. Perfect beach read!"
"This is an unusual slave story as it begins on a plantation in Barbados with a slave (Washington Black) and master story. The master is an adventurer and takes Washington with him due to his amazing ability to capture details of their travels through his sketches. The book follow their routes to Canada, London, and Morocco. That Washington Black is able to travel as a free man and be treated humanely and as a peer by his former master create the intrigue of the book."
Recommended by Alli from Book Bin
1151 Church Street, Northbrook
Purchase for curbside pick-up only, both pre-orders and front door service
"Travel to Provence (with local author Lisa Barr) in this fictional story of a woman finding herself after the break-up of her marriage."
"A memoir of the author's youth in pre-Castro Cuba told through the lens of having had to leave there at age 11, post-revolution – recommended by Nancy Randall."
1127 West Madison Street, Chicago
Purchase curbside, online or in-person (limit to 8 people at a time, mask required, gloves suggested)
"Especially now when we cannot travel, I think it is important to remember that there are so many beautiful places in the world to visit and interesting things to experience. This book is part memoir, part tribute to the author's mother, part quest for a life well lived. Plus, it is good to be reminded that we are braver than we think. We keep ourselves from so many experiences due to fear, be it recognized or not. It is time to let go the things that hold us back and live in the whole world."
"Since the best place for us right now is outdoors, and the National Parks are America's best great outdoors, this seems like a fitting book. In the wake of a broken engagement the author goes on the ultimate US adventure visiting every National Park from A(cadia) to Z(ion). Part Sheryl Strayed in Wild and part Bill Bryson in A Walk in the Woods, Conor Knighton bites off a big trip. Our delight is in reading as he chews it, and makes it his own."
1474 N Milwaukee Ave, Chicago & 900 n Michigan Ave, Chicago
Purchase for curbside pickup, online, or schedule an appointment to browse in store
"Emily St. John Mandel is an incredible writer – and this book sweeps you from rural Canadian seascapes to the bustle of New York City. At it's heart it is about people, and how the decisions of one person is akin to the ripples from a stone dropping in a pond."
"A classic gothic spooky house in 1950s Mexico – travel in time and to rural Mexico. Plus, you get that added gothic chill to cool down your summer nights!"
Recommended by Erika from RoscoeBooks
2142 W. Roscoe St., Chicago
Purchase online or in person, with social distancing measures in place (max 6 customers at a time, masks required)
"This beautiful novel, which follows multiple generations of a Palestinian family over the course of several decades, is among my favorites of the past few years. Alyan is first and foremost a poet, and it shows in her vivid language and in the care with which she treats her characters. It's amazing that a 300-page book can feel as epic as this one does."
"Care to cross the border AND go back in time? All of the stories in Leung's wonderful collection are set in the same world: a suburban Toronto subdivision, in the late '70s and early '80s. Leung's diverse, sympathetic characters grapple with growing up, assimilating (many of them are immigrants), and trying to understand the actions of their friends and neighbors. I really enjoyed this!"
4736 N Lincoln Ave, Chicago
Purchase for curbside pick up
"I was fascinated by this World War II story.  This adventure takes place on a remote island in the South Pacific. While on a break from their duties, United States servicemen  and members of the Women's Army Corp that were stationed on the island took a sightseeing tour via airplane. The next thing you know, their plane crashes in the valley known as Shangri-La. Injured and without supplies, the survivors of the crash begin the long hike out of the valley. This page turning tale describes the bravery and resourcefulness of the survivors and the rescuers."
"Jeffrey was the East Africa war correspondent for
The New York Times
.  This
book
is a memoir of that part of his life. He not only falls in love with the landscape and people of East Africa, but he meets and falls in love with Courtney, who later becomes his wife. It's an adventure of place and relationship and both are equally rocky and risky."
---
More from Better:
---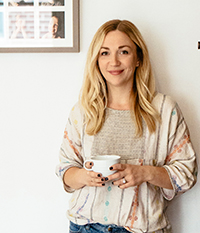 Macaire Douglas lives in the Chicago suburbs with her husband and two sons. She proudly supports Save Abandoned Babies Foundation, a Chicago-based nonprofit organization that works tirelessly to prevent the illegal abandonment of newborns nationwide. Since its inception in 2000, more than 3,600 newborns have been safely surrendered and adopted into loving homes.