Somehow, we are already halfway through July and the possibility of heading back into the school routine soon—at home or not—is top of mind for most families. Before we dive back into our chaotic schedules, let's enjoy some of the peace, rest and relaxation summer brings. From enjoying ice cream for a good cause to taking in beautiful gardens, let's enjoy summer while we can.
Please take care and help our community fight COVID-19 — maintain at least 6 feet of distance, wear a mask and wash your hands properly and frequently, when going out.
View this post on Instagram
This weekend, you have the perfect excuse to grab some ice cream: not only is Sunday National Ice Cream Day, but you can get a scoop for a good cause at one of the Chicago area shops supporting Scoops for Change. Black Dog Gelato, Pretty Cool Ice Cream, 26th Street Sugar Shack and Mario's Italian Lemonade will donate profits to a charity of their choice.
View this post on Instagram
Through August 9, the Lake Forest Chapter of the Infant Welfare Society of Chicago will transform a grand, historic home into a beautiful showhouse. Following State safety guidelines, a restricted number of tickets will be sold per day, divided by morning and afternoon sessions, Monday through Friday from 9 a.m. to 2 p.m., Saturday and Sundays from 10 a.m. to 4 p.m. Many of the items will also be for sale, with 15% of the sale benefitting Infant Welfare Society of Chicago.
The Chicago Dogs are hosting home games this weekend, and welcoming a limited fanbase back to Impact Field (20% capacity) with a comprehensive COVID-19 action plan to keep fans, players and staff safe. This includes masks, distanced seating, one-way aisles and more. They are also offering fun promotions to fans, which include:
Friday, July 17 at 7:05 p.m.
Enjoy a variety of beer and food "happy hour" specials from 5 p.m. to 6 p.m. alongside live music from the School of Rock. The first 1,000 fans to enter the ballpark will receive a free bobblehead of the team's Ketchup mascot, too.
Saturday, July 18 at 7:05 p.m.
"Superhero Night" themed game, where fans are encouraged to dress up as their favorite superhero.
Sunday, July 19 at 7:05 p.m.
Fans can take advantage of the $3 bottomless popcorn and $3 bottomless soda promotions.
We know — it's sticky and hotter than hades out there, but winter will be here before we know it.  So get outside and stretch out that #coronabod with some Olympic-inspired activities.  Better yet, if you participate in three activities and use the hashtag #2020ChicagoOlympics, we will donate $50 each to Girls in the Game and By the Hand Club for Kids. Learn more here, including reviewing the full list of activities you can do around Chicago.
Keep mornings cool with a light, refreshing breakfast that's also high in nutritional value. The Berrylicious Smoothie from Three Sisters Juice at Found Kitchen in Evanston is an easy recipe to mix up in your own kitchen with ingredients that you probably already have.
Berrylicious Smoothie
1.5 Frozen Banana
1/4 cup Mixed Berries
1/3 cup Kefir or Yogurt
6-8 ounces Orange Juice
3 count of Agave, to taste
Put all of the ingredients in a blender and blend. Add more juice if it's too thick.
No frozen fruit? That's ok! Add some ice (it will water the flavors down a bit though).
Make sure you taste the smoothie before pouring into a glass to determine if it needs more berries, agave, juice, etc.
Three Sisters Juice is an ode to Amy Morton's three daughters, and in collaboration with them. The juice and smoothie stand operates out of Found's retractable door Mondays to Fridays from 8 a.m. to noon. Better yet, 100% of the proceeds benefit The Bail Project and Black Lives Matter.
---
More from Better:
---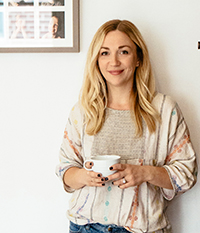 Macaire Douglas lives in the Chicago suburbs with her husband and two sons. She proudly supports Save Abandoned Babies Foundation, a Chicago-based nonprofit organization that works tirelessly to prevent the illegal abandonment of newborns nationwide. Since its inception in 2000, more than 3,600 newborns have been safely surrendered and adopted into loving homes.