Avec started in 2003 as the brainchild of Paul Kahan, Donnie Madia and Eduard Seitan. All three partners brought a different spin to the table, creating a Mediterranean mecca in the Midwest. Seventeen years later, the West Loop spot is one of Chicago's most acclaimed restaurants. 
Dylan Patel started at the restaurant in 2015 as a kitchen intern. Under the guidance of fellow One Off Hospitality chef Perry Hendrix, Patel moved from position to position until February 2019, when he was named chef de cuisine.
Avec is known for using local ingredients from farms across the Midwest. Patel is able to transform these ingredients into the "aromas, flavors and colors of the Mediterranean." Dishes like Medjool dates, bacon-wrapped dates stuffed with chorizo, are a prime example of chef Patel's ability to infuse the Midwest with the Mediterranean.
Patel's leadership has been tested by the pandemic, which has forced many Chicago restaurants to temporarily close or pivot to take-out only. Despite 2020's trials, avec has managed to remain a core Chicago restaurant under Patel, who moved the restaurant's business largely to a take-out and delivery model for the time being.
We talked to Patel to discuss how he brings his background and vision to avec, especially during COVID.
How did you start your culinary career?
Right after high school, I went to Kendall College here in the city for about two years. I was originally going to do the Bachelor's program. However, one of the teachers convinced me to get out after two years and just start working, so that's what I did. I was originally going to do a R&D internship at Barilla, the pasta company, trying to work more of a 9 to 5 corporate job instead of a kitchen job. She wouldn't let me do that, she said at least go intern at this place called avec in the city, try it out. Ever since then I kinda stayed here, started as an intern, then got promoted to a supervisor, then sous chef, then as of February of this year I was named CDC (executive chef).
What inspires your cooking?
I get inspired by Paul Kahan's famous quote, "avec is just one big dinner party." I try not to take food too seriously. I love cooking things, I would cook for my family and friends at home, while adding a little restaurant spin on it. Again, I love keeping things simple, nothing too crazy–just delicious food.
How does Chicago influence your food?
Growing up in the suburbs, there's a drastic change in food between here and there. In the suburbs you have less of a diverse community–especially with their palettes. You know you have your steakhouses and seafood places, but nothing really out of that range. Coming to the city, going to Kendall and living here for a couple of years kind of brought my palette, especially with ingredients I use, ingredients I never knew about before working here at avec. It's been eye opening and nice to see.
How has the pandemic affected avec?
The pandemic has affected avec quite a bit. I think the biggest part for me was turning the restaurant into something that people went to for special occasions to just becoming a regular neighborhood spot. We're constantly changing the menu [to accommodate shifting guidelines]. 
What about your cooking?
I stick to the core of keeping things simple, delicious. I have kind of tweaked things to make things more suitable for to-go offerings versus for here. Maybe less fancy on the plate, more delicious on the palette.
We used to have this tajine dish here that we would garnish with like 10 or 15 things on top. Instead, I kind of just incorporated everything into the stew itself. Instead of having the salad, the chickpeas, the pomegranates on there, everything has been layered into the stew itself. At home, the customers can just simply reheat up one item and eat versus having to assemble it themselves at home.
Who is the most famous person you've served?
So we have a chef counter at the restaurant. The customers sit there and they can see the cooks cooking on the line. And so I was standing, expediting right next to the people standing at the chef's counter and it turned out to be Roy Choi. He has a show on Netflix, Chef's Talk, with John Favreau, and two years ago they went to Atlanta and had this shrimp dish. My boss (Perry Hendrix) and I both watched some episodes and we all came into work and said, "Oh that shrimp dish looked so good." So we made this shrimp dish that week, and lo and behold, Choi came in to eat it! I was standing next to him while he ate it and I was like, "This is great."
Order from avec for pick-up or delivery on Tock.
Make Chef Patel's Holiday Porchetta Roast at Home
One of Patel's favorite holiday meals to make is a porchetta roast paired with a butternut squash bisque. Chef Patel has shared the recipe for the roast so you can try your hand at making it at home for the holidays.
Porchetta Roast Recipe:
Ingredients:
1ea boneless pork belly with the skin on (10-12 pounds)
1 cup garlic cloves
2 tablespoons chili flake
Zest of 2 oranges
1/2 cup fresh rosemary leaves
1 cup parsley, chopped
2 tablespoons fennel, toasted and ground
2 cups olive oil
1/4 cup fennel pollen
2 tablespoons black pepper, cracked or coarsely ground
1/4 cup sea salt
Directions:
Begin by making the marinade for the porchetta: add garlic, chili flake, orange zest, rosemary, parsley, fennel seed and olive oil to a blender and process until smooth. Set aside.
Now take the pork belly and score both sides (skin and flesh) with a sharp knife. On the skin side be careful not to score too deep as to go through the skin and into the meat. Once scored turn meat so that the flesh side is up, take marinade and slather all over the belly working it into the meat and incisions.
Next take the sea salt and spread evenly over the meat, then do the same with the fennel pollen and black pepper. Once meat has been seasoned, carefully and tightly roll the belly so that it forms a tight cylinder with the skin on the outside.
Tie the roast crosswise in 1-inch intervals with butchers' twine, this will help give the roast its shape.
Place porchetta in the fridge overnight to allow the seasonings to penetrate.
The next day remove roast from fridge and allow to sit at room temperature for at least an hour before placing on a roasting rack and tray.
Cook in a 325 degree oven until an internal temperature of 160 degrees Fahrenheit has been reached, about 4-5 hours.
Remove from oven and allow to rest. Meanwhile raise oven temperature to 500 degrees.
Once pork has rested for about an hour place back into 500 degree oven and roast until skin begins to crisp and crackle. Remove from oven.
Rest again and serve by removing twine and slicing thin.
---
More from Better:
---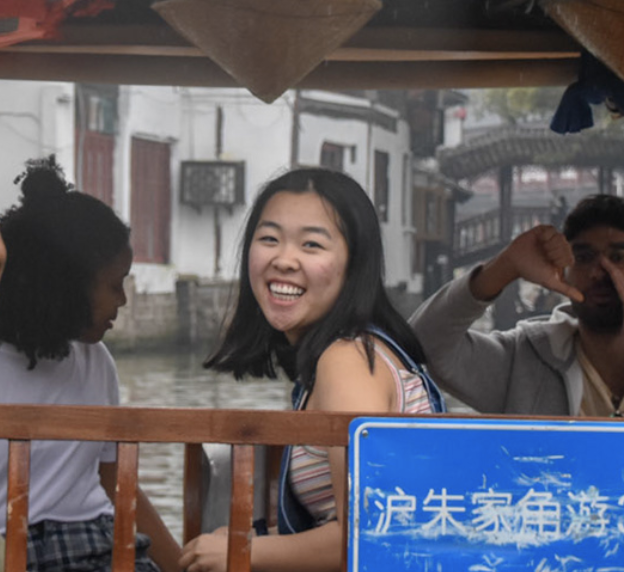 Cindy Mei is an intern at Better. Currently in her senior year of college at Northwestern's Medill School of Journalism, Cindy is moved by strong storytelling about personal identity and culture. She is an avid fan of the works of Anthony Bourdain, Alex Kotlowitz and Jenn Fang.
Cindy is a proud alumna and supporter of After School Matters, a non-profit organization that offers arts and leadership classes to Chicago high schoolers. She also encourages support for Think!Chinatown, a New York City based non-profit that fundraises for Chinese businesses in Manhattan's Chinatown.