Wednesday, January 20 will be a historic day. Not only will President-elect Joe Biden and Vice President-elect Kamala Harris be sworn in to office, but the virtual and limited in-person ceremonies will be nothing we have seen before.
Having to break from tradition, the entire National Mall, which has been packed with hundreds of thousands of spectators on previous Inauguration Days (the largest being 1.8M for President Obama's 2018 inauguration), will be closed. And, due to terror threats after the Jan. 6 Capitol riots, about 20,000 National Guard members were sent to protect the Capitol building complex. These threats are also being felt in capitol cities across the U.S., and even here in Chicago.
With key events taking place across several days, we gathered all of the important information you need to know. Here's what will happen during Wednesday's "America United" ceremony, including the live-streamed celebrations, plus a list of local food and cocktail options you can order in.
View this post on Instagram
Early Celebrations
Saturday, January 15
America United: An Inauguration Welcome Event Celebrating America's Changemakers
The Biden inaugural committee hosted a 90-minute celebration on Saturday, that featured appearances and performances from Whoopi Goldberg, Nik Dodani, Darren Criss, Black Pumas, and Cristela Alonzo, as well as Representative Grace Meng, Mayor Keisha Lance Bottoms, and the Resistance Revival Choir.
How to watch: Watch the recap of the event on YouTube.
Monday, January 18
United We Serve: A Celebration of the National MLK Day of Service
In celebration of Martin Luther King Jr. Day, the committee is calling on volunteers across the country to celebrate by taking part in a National Day of Service, and a one-hour event featuring Aloe Blacc, Reverend Dr. Bernice King, Martin Luther King III, Chesca, Representative Sharice Davids, Rosario Dawson, Andra Day, Yo-Yo Ma, Reverend Al Sharpton, and more.
How to watch: Stream from 8-9p.m. on bideninaugural.org and on the Presidential Inaugural Committee's social media accounts.
Tuesday, January 19
Memorial and Nationwide Tribute to Remember and Honor the Lives Lost to Covid-19
Inviting cities across the U.S. to join, the committee is holding a ceremony in D.C. at 5:30 p.m., featuring a lighting around the Lincoln Memorial Reflecting Pool in honor of those lost to the Covid-19 pandemic.
How to watch: Stream at 5:30p.m. on bideninaugural.org and on the Presidential Inaugural Committee's social media accounts.
Inauguration Day
Wednesday, January 20
The 59th Inauguration Ceremony
President-elect Biden is scheduled to be sworn in around noon EST, with Vice President-elect Kamala Harris following shortly after the new POTUS' inaugural address. Lady Gaga is set to sing the national anthem and Jennifer Lopez and Garth Brooks will perform as well.
President Trump, who has stated he will not attend the ceremony, will give his outgoing remarks at the Joint Base Andrews before taking Air Force One to Mar-a-Lago.
How to watch: The ceremony will be on every major news network, including ABC, PBS, CBS, NBC, Fox, PBS, CNN, and MSNBC, and you can stream online at bideninaugural.org.
Virtual Parade
With terror threats and the Covid-19 pandemic still raging, there won't be an in-person parade down Pennsylvania Avenue. The virtual parade will take place shortly after the ceremony, around 2 or 3pm EST, and continue for a few hours. According to the committee, "The parade will celebrate America's heroes, highlight Americans from all walks of life in different states and regions, and reflect on the diversity, heritage, and resilience of the country as we begin a new American era."
How to watch: The parade will most likely be aired on all major networks, including ABC, PBS, CBS, NBC, Fox, PBS, CNN, and MSNBC, and you can stream online at bideninaugural.org.
Celebrating America Special
Celebrating America, an inauguration special hosted by Tom Hanks, will air the night of January 20th and feature performances from Jon Bon Jovi, Demi Lovato, and more https://t.co/FXQvmPaLWe

— VANITY FAIR (@VanityFair) January 14, 2021
Hosted by Tom Hanks, the "Celebrating America" TV special will feature performances from John Legend, the Foo Fighters, Bruce Springsteen, Jon Bon Jovi, Demi Lovato, Justin Timberlake, and Ant Clemons. Eva Longoria and Kerry Washington will introduce segments during the special broadcast.
How to watch: All of the major networks are expected to air the special, and it will also be streamed live on YouTube, Facebook, Twitter, Twitch, and Amazon Prime Video.
Local Food & Drink Specials
The Evanston favorite has shared the recipe for their Inaugural Cheer cocktail to make at home:
Inaugural Cheer
Ingredients: .25 oz Cherry Juice
.25 oz Fresh Lemon Juice
1 oz Violet Liqueur
1.5 oz Dry Sparkling Wine or Champagne
1/2 Cup Crushed Ice
Available for pre-ordering on Tock, Travelle at The Langham's Inauguration Day kit ($146) includes an elephant-sized, salt-crusted Tomahawk Chop (46 oz), Bordelaise Sauce, and Impeachable Potatoes, the restaurant's house pommes puree. The ingredients are pre-measured and the kit offers cooking instructions to prepare the perfect restaurant-quality dinner and help Chicagoans celebrate 46. Travelle also offers an array of celebratory bottles of bubbly for an additional cost, with options including Henriot Brut Sauverain ($105), Moët and Chandon Impérial Brut ($130), and Canard-Duchêne Cuvée Léonie Rosé ($150). Pick up is available on Wednesday January 20 from 12-5pm. Pre-ordering available through Monday January 18 at 5pm.
Enjoy a four-course Mediterranean dinner for two: The meal includes Spicy Hummus, Village Salad, Crispy Brussels Sprouts, Chicken Kefta Kebab with Basmati Rice and Pistachio Cake for $24.95 per person, plus tax. The dinner is available for carryout and delivery and orders must be placed by 4:00 PM the same day. 302 N. Green St., 3rd Floor, Chicago

Perfect to share, the meal for two includes Classic Caesar salad, Boneless Chicken Wings, a choice of 12″ Pizza and Chocolate Chips Cookies for $59.95, plus tax. The family meal is available for carryout and delivery. 620 N. State St., Chicago
Enjoy a three-course dinner at home, to-go from Beatrix. Choose from one starter, an entrée and dessert. The dinner costs $35 per person, plus tax. Orders must be placed at least 2 hours prior to desired pick-up time. The Beatrix three-course dinner is available for pick-up or delivery from your nearest Beatrix location from 4:30 PM – 7:00 PM. River North: 519 N. Clark Street, Chicago | Fulton Market: 834 W. Fulton Market, Chicago | Streeterville: 671 N. St. Clair St, Chicago | Oak Brook: 272 Oakbrook Center, Oak brook
Big City Chicken offers a family meal featuring a choice of hand-breaded chicken tenders (20) or crispy chicken sandwiches (4), waffle fries, cole slaw and mixed drinks for $49.95, plus tax. The family meal is available for delivery only. 620 N. State St., Chicago
Mix and match your own Mediterranean Mezze Meal For Two from Ema! Choose three favorite mezze options like Spicy Hummus, House-made Labneh or Crispy Potatoes and two kebabs like the Salmon or Grilled Mushroom. Plus, two slices of Honey Pie are included to end the meal on a sweet note! Orders must be placed same day by 3:30 PM for pick-up or delivery from 4:00 PM – 6:30 PM. 74 W. Illinois St., Chicago
On Inauguration Day, enjoy a special BBQ Pack from L. Woods that feeds two and includes Caesar Salad, BBQ Baby Back Ribs & Chicken, Mashed Potatoes, Macaroni & Cheese, Coleslaw and Key Lime Pie for $79.95, plus tax. The package is available for carryout and delivery and orders must be placed 2 hours prior to the desired pick-up time. 7110 N. Lincoln Ave., Lincolnwood
Treat yourself to tacos this Inauguration Day! Tallboy Taco's build-your-own taco bars feature hand-pressed tortillas, choice of two proteins (carne asada, chicken chimichurri, grilled baja shrimp and pork al pastor), assorted toppings, fresh guacamole, corn fundito and housemade chips. The kit also includes one of Tallboy Taco's signature sweets, Cinnamon Toast Crunch Treats. Order the taco bar for two people for $59.95, plus tax or four people for $99.95, plus tax. 676 N. St. Clair St., Chicago
Wildfire's Wednesday night special, Fire-Roasted Greek Chicken, will be available for carryout & delivery (and dine-in only on the Oak Brook heated & tented patio) after 3PM. This boneless half chicken dish is served with roasted potato wedges, lemon, garlic & herbs and is the ideal comfort dish to enjoy at home while watching the Inauguration. Chicago: 159 W. Erie St., Chicago, IL | Oak Brook: 232 Oakbrook Center Mall, Oak Brook, IL | Lincolnshire: 235 Parkway Drive, Lincolnshire, IL | Schaumburg: 1250 E. Higgins Rd., Schaumburg, IL | Glenview: 1300 Patriot Blvd., Glenview
Looking for Biden/Harris Merchandise?
Find locally at T-Shirt Deli in Bucktown and Andersonville and at Raygun in Andersonville.
---
More from Better:
---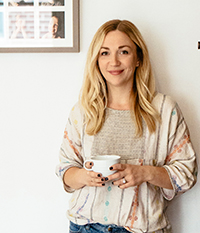 Macaire Douglas lives in the Chicago suburbs with her husband and two sons. She proudly supports Save Abandoned Babies Foundation, a Chicago-based nonprofit organization that works tirelessly to prevent the illegal abandonment of newborns nationwide. Since its inception in 2000, more than 3,600 newborns have been safely surrendered and adopted into loving homes.