Since the Covid-19 vaccine became available late last year, it's been surrounded by confusion. When can you get it? Will Illinois receive enough supplies? And the biggest question of all — if I'm fully vaccinated, when can I hug my family members and friends? With over 4 million doses administered in Illinois already, these questions are on everyone's mind.
We dug in to find the answers that we are all desperately searching for. With information changing daily, here are the best resources for residents of Chicago, Cook and Lake County, including tips for booking and what you need to know before you arrive at your much-anticipated appointment.
Who is eligible for the Covid-19 Vaccine?
As of today, Illinois is accepting vaccinating those in Phase 1A-1B+.
This includes:
Healthcare workers
Long-term facility and congregate care staff and all residents
Frontline essential workers, including teachers and first responders
Residents aged 65 and older
Those 16 and older with preexisting conditions, including: Obesity, diabetes, pulmonary diseases, smoking, heart conditions, chronic kidney disease, cancer, solid organ transplant, sickle cell disease and pregnancy
Persons with a disability
The next phase is 1C, slated to start in Chicago on March 29, and will include other high-risk adults and essential workers. Phase 2 will most likely be open to the larger population once vaccine supply has increased, helping our community get closer to President Biden's promise to make all Americans eligible by May 1.
All adult Americans will be eligible to get the vaccine no later than May 1.

— President Biden (@POTUS) March 12, 2021
In an interview Monday Illinois Gov. J.B. Pritzker said extending vaccine eligibility may even happen sooner than expected. "Certainly by May 1 and we'll do it sooner than that I believe in the state of Illinois," Prizker said in the interview.
It is important to note that while Illinois is in Phase 1B+, the City of Chicago and Cook and Lake Counties are only at Phase 1B. Some communities are opening up appointments to those in high CCVI (Covid Community Vulnerability Index) zip codes, including the United Center (current zip codes are 60608, 60619, 60620, 60624, 60644, 60649, 60651, 60652, 60653).
You can register for updates on eligibility here:
City of Chicago
Cook Cook County
Lake County
Illinois Department of Public Health
Booking your appointment
There are multiple options for making your free Covid-19 vaccine appointment — the tricky part for most is getting online and snagging that actual slot. In general, appointments are released around 6 a.m. and sometimes midday, and it helps if you create an account and are logged in on website first. And the good news is that once you are booked for your first dose, your second dose will be scheduled at the same site (and usually you book this at the same time at your first dose).
We are continuing the work of vaccinating residents who need it most. Earlier today, we vaccinated over 1,000 Chicagoans at two special events in Belmont Cragin and Gage Park. In partnership with community partners, we will #ProtectChicago. Together. https://t.co/EdCxVA8e7v pic.twitter.com/69jNRu1dAX

— Mayor Lori Lightfoot (@chicagosmayor) March 13, 2021
Here are some options for vaccination sites:
Federal
United Center mass vaccination site (currently only accepting new appointments for residents of Chicago in certain zip codes)
Private (and following state eligibility requirements)
Jewel-Osco
Walgreens
CVS
Private (and following county or city eligibility requirements)
Marianos
Walmart
Costco
City of Chicago
Zocdoc vaccine finder, which includes Rush, AMITA, Erie Family Health and Innovative Express Care.
Lists of Community Sites
Lake County
Cook County
Statewide
Healthcare Provider
Some providers do have access to vaccines, and will be in touch with patients who are eligible. If you have any doubt, it can't hurt to call your physician. However, you're likely better off securing your own vaccine appointment through one of the above options rather than waiting for a call from your doctor.
Employers
Some essential workers may be eligible to receive the vaccine at their employer.
If you need help booking, call a Covid-19 hotline:
City of Chicago 312-746-4835
Cook County 1-833-308-1988
Lake County 847-377-8130
State of Illinois 1-833-621-1284
There are many community groups dedicated to helping the elderly and most vulnerable, and those without internet access. Chicago Vaccine Angels, led by Chicago teen Benjamin Kragan, has helped secure appointments for hundreds of eligible people.
Now there are so many more volunteering to help!
Teen, 14, helps hundreds secure COVID-19 vaccine appointments through his own database, 'Chicago Vaccine Angels' https://t.co/pd1sYuPESI via @abc7chicago

— Sheedeh Rahimi (@SheedehRahimi) March 12, 2021
What to bring to your vaccination appointment
Be prepared! No matter where you are scheduled, you will need a few items:
Your mask

Government-issued ID (Drivers license, passport, etc.)

Insurance card (the vaccine is at no cost, but requested at some sites)

Consent paperwork (provided when you book your appointment, or you can arrive early and complete on premise)

Essential worker verification (if applicable)

Proof of residence (for some locations), such as a utility bill

Registration code or voucher (if applicable)

Confirmation email
If you have a preexisting condition, you may wonder if you need a doctor's note. The answer comes down to this: it's basically on the honor code. This doesn't mean you should claim to have heart disease when you don't, but there is no way for staff to validate you have a certain condition, as not all residents have access to a doctor to write up that note. If you have documentation of your condition from your doctor, it can't hurt to bring it along. But if you don't qualify yet, the vaccine will be open to all adults by May 1, so our advice is to please wait your turn.
What to expect at your appointment
Every vaccination site is different, but in general it is a good idea to arrive at least 15 minutes early and be prepared to wait. Make sure you have all of your materials ready the night before, including your confirmation email printed or ready on your phone.
Once you check-in, your temperature will be taken and you will be given a CDC vaccination card that tells you what dose you have received. Make sure you keep this for the future, including to bring to your second dose appointment.
Advice to everyone: take a photo of your vaccination card once done, and make color copies and get them laminated. One copy in your passport, one in your license wallet folder, a few extras just in case. I would wager most indoor businesses will require them come late summer.

— Dr. Sarah Parcak (@indyfromspace) March 12, 2021
Before your vaccination, the healthcare worker will review the list of possible side effects from the vaccination. Once you receive your shot in your upper arm of preference, you will need to wait at least 15 minutes afterwards in the monitoring area, just in case you have a severe reaction.
What are the side effects of the Covid-19 vaccine?
Side effects vary from person to person, with some experiencing more after the second dose. If you are hesitant to receive the vaccine because of possible side effects, it's good to remember that having a sore arm or fatigue is not a dangerous "reaction," but a positive sign that your system is responding well to the vaccine. And with such a large number of Americans being vaccinated, the Centers for Disease Control reported that out of 1.8 million Americans who got the Pfizer vaccine, only 4,300 total reported adverse effects.
So with that in mind, here is a list of common side effects:
Sore arm

Fatigue

Muscle pain

Chills

Fever

Nausea
If you are worried about experiencing pain after the vaccination, it's important to note that per the CDC, it is not recommended you take over-the-counter medicine, such as ibuprofen, aspirin, acetaminophen or antihistamines before vaccination unless this is something you take regularly for other reasons. If you have any questions, always check in with your healthcare provider.
Difference between vaccines
No matter which vaccine you receive — Pfizer-BioNTech, Moderna or Johnson & Johnson Janssen — they are all approved by the Food and Drug Administration and are effective at preventing symptomatic Covid-19. The biggest difference is that Johnson & Johnson comes in one dose, while Pfizer and Moderna require two doses (at three weeks and four weeks, respectively). Most clinics are not offering the single dose yet but production has really ramped up, delivering 3.9 millions doses just last week.
Today in Des Plaines, we opened our fourth large-scale community vaccine site. This location is the first site in Illinois to administer the one-dose Johnson & Johnson vaccine. All sites are by appointment only. For more information, visit https://t.co/w02dtIfHCq or 833-308-1988. pic.twitter.com/AiEukh4KC4

— Cook County Health (@CookCtyHealth) March 5, 2021
You should receive your second shot as close to the recommended interval as possible at your original vaccine location, however your second dose may be given up to six weeks after the first dose if necessary. It is also important that you second dose is the same type of vaccine as your first dose as well.
You're fully vaccinated. Now what?
Two weeks after your second dose or after the single-dose vaccine, you are considered fully vaccinated. This gives your body time to build protection, which is standard after any vaccination. You may be wondering what this means for visiting family, or doing activities that were limited before.
Here are some guidelines:
Yes, you still need to wear a mask in public. You can remove your mask when around other fully vaccinated people, the CDC recently announced, if other distancing measures are in place.
Continue to practice good hygiene. Rigorous hand washing will never go out to style.
You can skip quarantine and testing if you are exposed to someone with Covid-19. If you feel ill and have symptoms, please get tested.
Follow CDC and health department travel guidelines.
The CDC states that eating indoors at a restaurant or going to a gym is a lower risk for fully vaccinated people. If you were staying home before, these types of activities may now be an option for you.
And yes, this does mean you can hug other vaccinated people, provided none of those people are at high risk of severe illness from COVID.
---
How you can help:
Navigating the vaccination process is a confusing and intimidating process for most, but especially for the elderly and those most vulnerable. Consider becoming a volunteer at a vaccination center (yes, you do receive a shot!). Here are some opportunities to help others:
---
More from Better:
---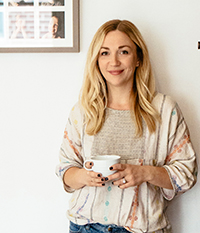 Macaire Douglas lives in the Chicago suburbs with her husband and two sons. She proudly supports Save Abandoned Babies Foundation, a Chicago-based nonprofit organization that works tirelessly to prevent the illegal abandonment of newborns nationwide. Since its inception in 2000, more than 3,600 newborns have been safely surrendered and adopted into loving homes.