Skincare can be overwhelming. Anti-aging, collagen-boosting, exfoliating — the list goes on. Then you have to factor in the newest technology, the latest hype, and what trends are hot right now (charcoal or avocado mask, anyone?). No wonder the skincare industry is booming.
We are here to tell you that if you are going to add one product to your regime to boost your confidence, this is the product you should not skimp on: a serum. With many functions, key ingredients range from Vitamin C, hyaluronic acid, peptides, retinol, and all-natural botanics, but most serums achieve one universal-pleasing effect, at any age: that fresh and flattering glow. Paired with a daily sunscreen and weekly exfoliation, the serums on our list all reveal glowing results (pun intended). Read on to discover 11 of our favorite serums that are dermatologist approved, fan favorites, and come highly reviewed.
First, we talked to two local skin-care experts (and Best of 2019 winners) to get their top beauty serum picks and advice for helping you achieve that enviable glow.
Dr. Carqueville specializes in cosmetic dermatology and is an expert in the assessment and treatment of the aging face. Personally, she uses an antioxidant and a hydrating serum. "We usually use serums as a first layering of skin care products, often under moisturizers, to enhance penetration," she says. "There are antioxidant serums, moisturizing serums, pigment-correcting, and retinol serums. The type of serum that one should add to his or her routine would depend on the goals of that individual."
If she has to pick her favorites (which we made her do, of course!) she loves
CE Ferulic by Skinceuticals
 ($166) and her favorite hydrating serum is
HA5 by SkinMedica
($178).
Before you set off on your glow-journey, you may want to consider having an expert like your dermatologist or aesthetician take a look at your skin. At Egea Spa, experienced staff can tell with a blink of an eye that yes, you should probably be drinking more water (another tip for great skin!). Also highly recommended is their hydrafacial service, which they brought to the North Shore three years ago. The hydrafacial cleanses, detoxifies, exfoliates, extracts, and hydrates in one treatment so you leave with radiant and silky skin from the start.
Egea's pick for a serum? The ZO Daily Power Defense ($150). It is packed with specialized DNA-repairing antioxidants, as well as peptides that stimulate collagen and lots of hyaluronic acid restoring skin function and elasticity. It also has an added bonus: time-released retinol to keep up cell turnover and address fine lines and wrinkles.
Here are eight other popular serums that come highly reviewed:
Goop-approved, Vintner's Daughter is an all-natural line that combines nature and science to give your skin a healthy glow. Packed with essential oils and 22 active botanicals, this serum will leave your skin smooth and happy.
Celebrities love the Sturm line and their glow drops are one of the most covetable. Packed with deep hydration and anti-aging compounds, this serum provides a long-term glow that you can freshen up with throughout the day.
Yes, you read that right. This serum is only $6.80 and has rave reviews for not only the cost but the effectiveness too. If you have dry skin, this serum packs an incredible boost of vegan hyaluronic acid into a crazy-affordable bottle.
Tata Harper's skin-care line is all natural and you really can't go wrong with any of her products. This resurfacing serum provides a gentle exfoliation to give your skin that just-had-a-facial glow. Dull skin doesn't stand a chance.
Another cult favorite, Beautycounter is popular among skin-care enthusiasts due to its commitment to clean beauty. This serum provides a radiant complexion by combining a powerful blend of peptides, amino acids, and their very own plant-derived Reinatural Complex.
Yes, this is technically a cream, but its super lightweight formula earns the right to be in the serum family and on our list. Backed by science (the founder has a Ph.D.), the cream eliminates sunspots in as little as 28 days, boosts brightening effects, and leaves your skin super soft.
Glossier has created three serums, but Super Glow is our energizing favorite. Fans agree, touting the serum's benefits every chance they get. We did a happy dance when Glossier increased the size of the serum bottles substantially this past spring, without changing the price point.
Sure, Drunk Elephant is a unique brand name, but this Allure Best of Beauty winner is not joking around when it comes to this serum. They even proclaim that it is "basically a no-makeup selfie in a bottle." With claims like that, it's no wonder this Vitamin C-packed serum is a bestseller.
---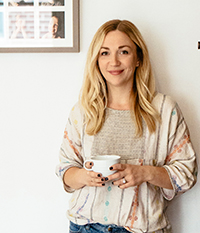 Macaire Douglas lives in Chicago with her husband and two sons. She proudly supports Share Our Spare, a local nonprofit that collects goods for children in need.