It's a universal truth: you cannot run to Target for just a toothbrush and leave without a cart full of things you didn't know you needed. If you are like us and are looking to not only simplify your life but also save money on frequent trips to the store, we have a list of innovative subscription boxes to save you from the dollar spot (more like $10 spot, right?). Not only are these services convenient, but they are also well-designed, budget-friendly, and fun to receive in the mail. Here are a few that we love, and we think you'll love too.
View this post on Instagram
What It Is: Sugar-free sparkling water delivery
Why We Love It: There's nothing ugly about it. If you love sparkling water (the addiction is real), there is nothing worse than realizing you have nothing in the house. Ugly Water comes in four flavors — peach, lemon-lime, watermelon, and cherry — and is sugar and sweetener free. Plus, with every purchase, Ugly Water donates to Girl Up.
The Details: A box of 48 will cost you $47.99 a month, delivered every 30 days with free shipping. Your first box of their multi-flavor pack is only $35.99 and after your first box you can select to receive smaller cases of water for delivery. 
View this post on Instagram
What It Is: Sonic smart-toothbrush and toothpaste
Why We Love It: Besides the unique design, the Quip toothbrush really does help you brush better. The sonic vibrations help you get in hard-to-reach areas and the 30-second quadrant timer reminds you to cover all areas. Plus, it is travel friendly, the toothpaste is great, and it has a lifetime warranty.
The Details: For just $5, Sonic will send you a new toothbrush head, battery, and toothpaste every 90 days. Starter sets range from $25 to $40.
View this post on Instagram
What It Is: Personalized wine subscription
Why We Love It: If you like to try different wines, Winc learns your palate and will customize selections based on your tastes. Winc sources from wines around the world, so you may just discover a new wine you would not have found at the local grocery store. 
The Details: Cost ranges on your bottle selections ($12.99 and up). Members can save 10 percent on 12 or more bottles too. With flexible delivery, you can choose to skip a month, and if you don't like a bottle, there is a satisfaction guarantee.
View this post on Instagram
What It Is: CBD gummies
Why We Love It: If you are a fan of the benefits of CBD, which range from reducing anxiety and stress to regulating your mood, Sunday Scaries gummies are a great way to get your dose of full-spectrum CBD. The gummies also include vitamins B12 and D3, taste great, and yes, look like gummy bears. They also have a vegan version!
The Details: A 20-day supply costs $31 a month with free shipping.
View this post on Instagram
What It Is: Monthly surprise potted plant
Why We Love It: This one might just be for fun, but if you love plants, this is a unique way to conveniently add to your collection. Select from beginner, low-light, or pet-friendly varieties. Each plant will arrive in one of The Sill's modern planters too (we're obsessed).
The Details: A monthly subscription will cost you $35, plus $5 shipping.
View this post on Instagram
What It Is: Cook-at-home meal delivery service 
Why We Love It: Most of us have tried a few weekly meal services and we have found that some are better than others. We love Home Chef because the ingredients are fresh, the ingredients are prepackaged per meal for easy organization, and you can customize your recipes, which includes swapping ingredients and proteins in the meals. If you are looking to save on trips to the store, give Home Chef a try!
The Details: Cost varies on meal choice, frequency, and serving size. The average meal price is $9.95. Meals ship free on orders over $45. 
View this post on Instagram
What It Is: Personalized vitamins and protein powders
Why We Love It: The packaging alone, which includes your name and a daily fact, will remind you to take your vitamins. Care/of's initial quiz helps you identify what vitamins, minerals, and herbs you may need to add to your diet. They recently introduced protein powders that we are loving too. 
The Details: Packs vary on your selections, starting at $5, with free shipping on orders over $20.
View this post on Instagram
What It Is: Self-care kit, delivered during a new moon cycle
Why We Love It: Everyone needs to take a pause for some reflection and self-care. The Lunarly kits, delivered before every new moon, include wellness products, candles, plants, and tools for mindfulness. It's a little witchy, a little spiritual, and a fun way to remind yourself that it's OK to reset and take some time for yourself.
The Details: $40 a month or $110 for three months, with free shipping.
View this post on Instagram
What It Is: Wholesome snack boxes
Why We Love It: Graze helps you stay on track with your diet and avoid that 3 p.m. trip to the office vending machine. After learning your preferences, Graze will send you a box of four healthy snacks to try a week. You'll discover some new favorites (and yes, they even have chocolate). 
The Details: Starts at $14.99 a week. 
View this post on Instagram
What It Is: All-natural reproductive care for women
Why We Love It: This may be the one product women don't ever want to run low on. Lola's convenient and affordable subscription service will take care of those monthly runs to the local store. Lola products, which include tampons, liners, cramp care, and even sex care, contain no toxins, dyes, or synthetic materials.
The Details: Subscriptions vary on product selection and start at $10 a month.
View this post on Instagram
What It Is: Fresh coffee subscription 
Why We Love It: Trade sends you coffee from local U.S. roasteries based on your preferences and brewing equipment. Plus, you'll discover roasteries you never heard of before and your beans are roasted fresh right before they ship to you. You'll never have to settle for bad coffee beans from the local drugstore ever again. 
The Details: Starts at $25 for two bags delivered every two weeks.
View this post on Instagram
What It Is: Women's premium razors and body care 
Why We Love It: Billie's razors give you a perfect, close shave and their lotion smells amazing. That we never have to worry about running out of razors and shaving cream is an absolute joy in itself. Top it off with with the fact that Billie is half the price of competitive razors and the service a no-brainer.
The Details: A starter kit is $9, with replacement blade cartridges costing $9 at a frequency of your choice. 
View this post on Instagram
What It Is: Customizable skin care
Why We Love It: When it comes to skincare, one size does not fit all. Do you have acne but want anti-aging benefits too? Curology can customize a skin care routine to fit all of your needs. They take the research and sourcing out of the equation, and you'll never run out with their subscription service. 
The Details: Starts at $19.95 a month.
---
Donate
Make room in your home for these awesome products by donating items you no longer need to one of these deserving nonprofits.
---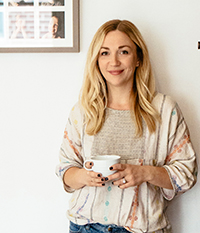 Macaire Douglas lives in Chicago with her husband and two sons. She proudly supports Share Our Spare, a local nonprofit that collects goods for children in need.