Look inside your closet. Would you believe me if I told you your clothes have more of a negative impact on the environment than air travel and maritime shipping combined?
But how could that be?
On Thursday, October 15, UNICEF hosted the "Your Hidden Climate Footprint" webinar as part of their Unite for Children Climate Change Summit. Featuring environmental lawyer Kim Lewand Martin and co-founder of the Fixx Collective Daisy Chen Hutton, both women walked the audience through how to reduce our collective carbon footprint by making an individual impact.
Martin started an online initiative that encourages people to focus on one "Eco-Habit" a month. In October, Martin is asking everyone to try going carbon-less.
Carbon dioxide is released through burning oil, coal, waste, and wood. California's wildfires have generated 91 million tons of carbon dioxide alone. For this month, try biking or walking to the grocery store instead of driving. Eat more plant-based options. Or, you could consider the clothes you have on.
The fashion industry accounts for 10 percent of global emissions. Fashionista turned environmentalist Daisy Hutton honed in on the detrimental effects of the fashion industry, especially fast fashion. In fact, every year the fashion industry uses 93 billion cubic meters of water, which is enough water to feed five million people.
Do you own anything from Zara? Forever 21? H&M?
"I used to brag about my clothes. 'I got it at Forever 21, it was only $15,'" shares Hutton, "But people don't think twice about how that piece of clothing was so cheap."
Here are seven tips and ways you can lower your carbon footprint right in your home:
Rent, swap or buy your clothes from second hand stores. Hutton started the Fixx Collective, a "sharecycling" service that rents and sells clothing from ethically sustainable brands such as Girlfriend Collective and Soko.
Shop BIPOC owned-businesses. Classy Closet Consignment is a wonderful Evanston consignment shop that resells high end brands like Stuart Weitzman.

Shop eco-friendly. Planet Access Store and Greenheart Shop are both independent stores in Chicago that sell sustainable clothing and accessories. All purchases made at Planet Access give back to Search, Inc., a program that helps adults with intellectual and developmental disabilities.
Shop ethically manufactured. Squasht Boutique in Chicago is woman-owned, and only sells locally handmade clothing and accessories.

View this post on Instagram
Watch out for label traps. "Made in the USA" does not actually guarantee quality or fair wages. Nor does a t-shirt labeled "Feminism" hold any meaning if it is made by oppressed women. Companies often "greenwash" their products by claiming to take sustainable steps but are really just using it as a marketing ploy.
Hold back. Both Martin and Hutton shared that they stopped purchasing clothes for a whole year. The difference? Nothing. In fact, studies show that we only wear 18 percent of the clothes we own anyway.
---
More From Better:
---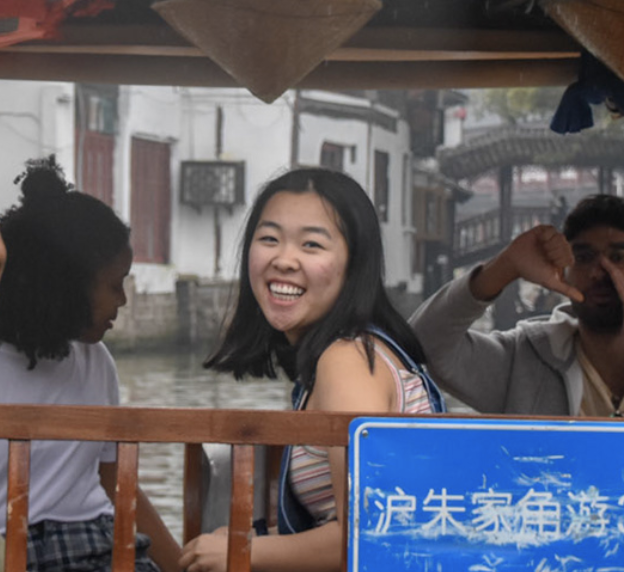 Cindy Mei is an intern at Better. Currently in her senior year of college at Northwestern's Medill School of Journalism, Cindy is moved by strong storytelling about personal identity and culture. She is an avid fan of the works of Anthony Bourdain, Alex Kotlowitz and Jenn Fang.
Cindy is a proud alumna and supporter of After School Matters, a non-profit organization that offers arts and leadership classes to Chicago high schoolers. She also encourages support for Think!Chinatown, a New York City based non-profit that fundraises for Chinese businesses in Manhattan's Chinatown.