In this tech-driven world, we all crave an occasional disconnect — a break from the hustle of daily life and the opportunity to get back to basics and connect and relax with loved ones. If this sounds intriguing, we have a perfect solution: an escape to a place where "life moves at the clip-clop pace of a carriage" —Mackinac Island.
The charming island, which has been car-free for 100 years, is situated in Northern Michigan on Lake Huron. A seven-hour drive from Chicago, the island feels like another world; there are no honking car horns, only the sound of horse-drawn carriages and bicycle bells. The island itself has centuries of history, with forts and ancient rock formations ready to discover.
While life on the island offers the welcome slowness of a bygone era, guests can still experience the luxury of a 21st-century vacation with a view toward the future. The "Jewel of the Great Lakes" has implemented robust sustainability initiatives, which are evident at the island's premiere resort and destination: The Grand Hotel, a National Historic Landmark.
Here's what you need to know to plan your stay at The Grand Hotel and Mackinac Island, a Best of 2022 Winner for Best Midwest Family Vacation.
Old World Charm Meets Modern Amenities
The world's largest "summer" hotel, The Grand first opened its doors in 1887 and is one of just 12 properties nationwide to earn the title of "Distinctive Destination" from the National Trust for Historic Preservation. Its iconic porch is the longest in the world; here you can relax in a rocking chair, sip a cocktail, and take in the stunning views of the Straits of Mackinac.
Many notable guests have stayed at The Grand over the years, including President Joe Biden (when he was a senator), President John F. Kennedy, Robert De Niro, Mark Twain, Madonna, and Barbara Walters.
Today, guests can enjoy modern amenities while the hotel's original architecture and charm have been tastefully preserved. The hotel has 388 unique guests rooms and suites, decorated by America's first and most acclaimed design firm, Carleton Varney.
When to Visit
Given you have to arrive via ferry, the tourism season for the island is generally May through October. The Grand Hotel closes after a "spooktacular" Halloween weekend, which includes a Haunted Trail and Maze, where admission proceeds benefit Give Kids the World.
The island will be in full swing by Memorial Day, so there is no time like the present to book your stay for next year. Although The Grand Hotel is known as "the summer hotel," the fall and spring months are great times to visit since the island is less crowded and room rates come down.
Arriving to the Island
There are two ports that run ferry service to the island; St. Ignace and Mackinaw City, Michigan. Shepler's Ferry offers specials for The Grand Hotel guests, but all ferry boats handle luggage the same: they tag your luggage at the port with your destination, and your hotel will deliver it to your room. The Grand Hotel has this process down seamlessly, and luggage is waiting for you outside of your room upon check in.
Departure works similarly, although you will have to be mindful of time since it does take up to three hours, especially during peak times, to transport luggage back and forth.
The island also has a small airport, owned by Mackinac Island State Park Commission, for regional charter flights and private aircrafts.
How to Get Around
With no car transport, you may be asking yourself how you get around the island. The island's taxi service is a horse-drawn carriage, costing $7 per person (for any taxi service, The Grand's or otherwise). You can also explore the island easily by walking, or renting a bike.
What to Do
It's easy to walk or bike into town, where there is no shortage of shopping and dining, but The Grand Hotel offers so many activities that you'll soon discover it's easy to not leave. You can get back to basics with activities like biking, horse-drawn carriage rides and kayaking, finding the Secret Garden, golfing at The Jewel and swimming. There is also a salon and spa, floral shop and clothing stores for men and women.
Their newly renovated Esther Williams Swimming Pool includes a water slide, pool cabanas, an adults only infinity-edge pool and fitness center. In the afternoons, they have Duck Races, a fun event for all-ages where you watch rubber ducks race down the slide. If your duck wins, you get a prize (ice cream!).
The Woodlands Activity Center offers bicycle rentals, miniature golf, a nature center with a functioning green house, pickle ball and recreation courts. You will want to rent a bike to see the island's famous sights, including the Arch Rock, Mission Church (Michigan's oldest surviving church building), Point Lookout and British Landing, where British soldiers landed during their successful attack and capture of Fort Mackinac on July 16 and 17, 1812.
If biking isn't you thing, you can access the sights with a VIP carriage ride in an ornate, Victorian-era carriage pulled by high-stepping Hackney horses.
View this post on Instagram
For more history, visit Fort Mackinac, an 18th-century French, later British, fort and trading post that is the oldest building in Michigan. During your tour, you can fire a real cannon, walk through history and grab a picnic from The Grand Hotel's Fort Mackinac Tea Room, which has the best views of the bustling town.
Dining and Entertainment
The Grand Hotel's famous dining options are a highlight of any stay, with breakfast and a five-course formal dinner included in your hotel rate. There are six unique dining concepts onsite, including the Main Dining Room, where guests enjoy breakfast, lunch or dinner overlooking the porch. The Grand Hotel Orchestra also provides nightly entertainment.
Outside of the Main Dining Room, options include:
The Woods, a short, horse-drawn carriage ride will take you to this upscale restaurant featuring a Bavarian-inspired menu. They also have the oldest duckpin bowling lane in the country.
The Jockey Club, at the Grand Stand, overlooking the first tee of The Jewel Golf Course, serving steaks and seafood.
The Gate House, featuring live entertainment and a late night menu, with an ample patio.
For pre-dinner drinks, grab a cocktail at the Geranium Bar and sit on the famous patio, or take a seat in the cozy Audubon Wine Bar, filled with hotel history.
After dinner, there are multiple options for drinks, dancing and music, including at the Terrance Room and two-story Cupola Bar (located at the top of the hotel).
During the day, you can grab coffee, food and even their world-famous fudge at Grand Coffee & Provisions, and premium Michigan-based ice cream at Sadie's Ice Cream Parlor.
Don't miss Afternoon Tea in The Parlor, a timeless tradition for more than 100 years. Between 3:30 – 5:00 pm, guests can sit down and enjoy tea, sherry, champagne, petite finger sandwiches, fresh-baked scones, and an array of pastries, all accompanied by a live music recital.
Dress Code: It's a Special Occasion
Part of the traditional charm of The Grand is their dress code. During the day, casual resort clothing is appropriate (for the ladies, no midriff-baring tops, sweatpants, or cut-off shorts and for the gentlemen, no sleeveless shirts, sweatpants, or cut-off shorts). After 6:30 pm, guests must follow the below dress code in all public areas, with the exception of the Cupola Bar:
It is preferred for ladies to wear dresses, skirts, blouses dress sweaters and dress slacks
Gentlemen are required to wear a suit or sport coat, necktie, and dress pants (no denim or shorts)
Children 12 years and older are expected to be in dress similar to adults
You also won't see many kids with phones or iPads during dinner, allowing families to really connect for meals.
Special Events
The Grand offers special events throughout the year, including during the island's Lilac Festival in June.
One special weekend is in early October: their Somewhere in Time weekend, where fans of the 1980 movie, which was filmed at the hotel, gather to celebrate. This year, there is even a guest of honor; the film's star, Jane Seymour, who played Elise McKenna, will make an appearance.
Sustainability
Mackinac's green initiates are evident throughout the island, including their farm-to-table dining (food is largely Island- or Michigan-grown), composting programs, and various eco-friendly activities. The Mackinac Island Community Foundation has been working since 1994 to better the general well-being of Island residents and visitors, including an Essential Needs Fund to aid residents during the height of the Covid-19 pandemic, expanding workforce housing and expanding environmental education.
---
More from Better:
---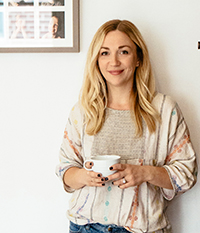 Macaire Douglas lives in the Chicago suburbs with her husband and two sons. She proudly supports Save Abandoned Babies Foundation, a Chicago-based nonprofit organization that works tirelessly to prevent the illegal abandonment of newborns nationwide. Since its inception in 2000, more than 3,600 newborns have been safely surrendered and adopted into loving homes.