If you are looking for more ways to give back this month, you're in for a treat. On Thursday, October 8, you can tune in to the Amy Krouse Rosenthal Foundation Yellow Umbrella Party that will feature a number of celebrity appearances, all for a good cause.
The Amy Krouse Rosenthal (AKR) Foundation is a non-profit organization committed to supporting and funding awareness and research for the early detection of ovarian cancer as well as childhood literacy programs. These were all causes that were important to Krouse Rosenthal, the award-winning Chicago author who passed in 2017 of ovarian cancer at the age of 51.
Her final essay for the New York Times, "You May Want to Marry My Husband," was published ten days before her death and immediately went viral. To date, it has been read by over four million people across the globe.
Thursday's virtual benefit will include an auction full of original artwork and memorabilia, a raffle and numerous big name appearances. Here is the line-up:
Julie Andrews and Emma Walton Hamilton
Maria Shriver
Jennifer Garner
Katie Couric
Julia Louis-Dreyfus
Chris O'Donnell
Joan Cusack
Cheryl Hines
Jamie Gertz
John Green
Jeff & Spencer Tweedy
Lynne Jordan & Brother John Kattke
Grab your tickets here, and check out the auction here.
---
More from Better:
---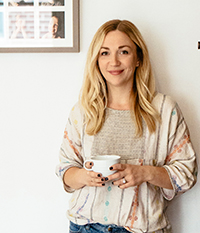 Macaire Douglas lives in the Chicago suburbs with her husband and two sons. She proudly supports Save Abandoned Babies Foundation, a Chicago-based nonprofit organization that works tirelessly to prevent the illegal abandonment of newborns nationwide. Since its inception in 2000, more than 3,600 newborns have been safely surrendered and adopted into loving homes.